COVID-19 Costs 102,300 IT Pros jobs
COVID-19 has halted almost all hiring of IT Pros
Over 102,300  IT pros lost their jobs in April.  For the year there is a reduction of the IT job market of 81,700 jobs.  Janco has reduced its forecast for overall IT job market growth to just over 40,000 for 2020.  Most of the CIOs and CFOs interviewed by Janco in the past few weeks feel that with the reopening of the US, IT hiring will resume by the end of the year.
Growth of IT Job Market (updated)
The number of IT jobs not filled now is just over 100K. Janco's initial forecast for the number of new IT jobs to be added in 2023 is between 20K-30K. Overall that is a flattening of the long term growth rate pattern of IT job market.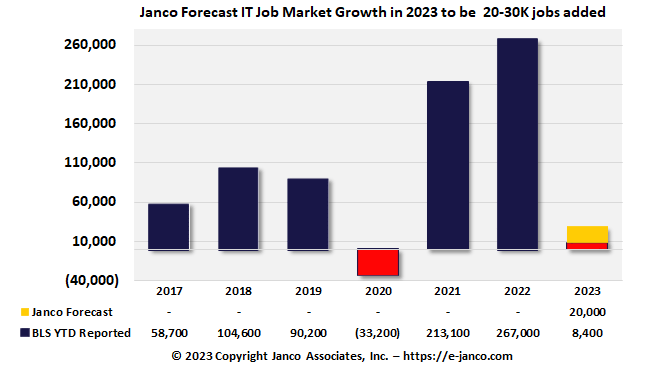 Data complied and forecast updated by Janco Associates with data as of September 2023
The CEO of Janco Associates, Inc., Mr. M. Victor Janulaitis said, "IT Pros who do not have a job are finding it difficult to even find contract work.  Until the public begins to feel they can go back to a normal lifestyle and companies open their doors, IT hiring will be non-existent. Many companies are directing IT functions to facilitate the support of non-IT professional with new and enhanced internet driven applications for telecommuters." He added, "The demand for contractor help in this effort was high initially, but now is non-existent. All of this has put IT professionals the same state as the rest of the labor market."
Change In IT Job Market Size - August 2023

41,600 IT Jobs have been added in the past 12 months - The IT Job Market grew by 21,500 jobs in the last 3 months.
---
Janulaitis said, "Software companies are advancing new releases without being encumbered with the 'overhead' and inefficiencies associated with traditional office development environment.  Developers are now focused on solutions and getting new releases of applications implemented.  That approach could be the spark that drives a wave of growth of IT jobs over the two or three quarters."
The CEO added, "…In a series of conference calls with C-Level executives, hiring has stopped.  The use of video conferencing has reached record highs.  The days of when people used to travel for remote meetings will be reduced as business go back to work and tele-meeting will be the new way that businesses operate."
Current IT Hiring Plans - IT Job Hiring Slows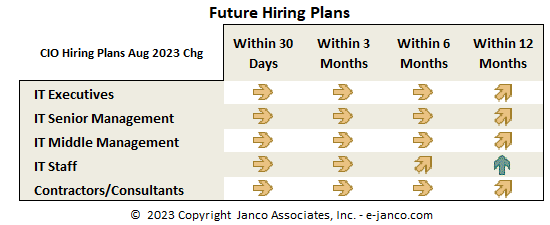 The treat of an economic downturn, inflation, high energy cost, and the continued war in Ukraine will continue dampen hiring for IT pros over the the next few quarters.
The total IT job market is now over 3.56 million positions within the US. The number of telecommunications positions continues to erode as more of the functions are impacted by AI.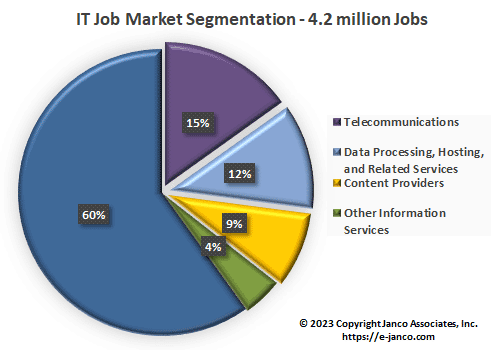 The size of the Data Processing, Hosting, and Related Services market has not grown as fast as the Computer systems design and related services portion of the overall IT Job Market
Janco is an international consulting firm that follows issues that concern CIOs and CFOs. The firm publishes a series of IT and business Infrastructure HandiGuides® and Templates including IT Infrastructure Policies and Procedures, Disaster Recovery/Business Continuity Template, Security Template, IT Job Descriptions, and its semi-annual IT Salary Survey.