Media Communications
Media - Incident Communication Plan Policy Template is a structure with specific examples on how to respond to an event that is business interruption or cyberattacks. Included is a Pandemic Planning Checklist which has all the questions that need to be addressed when a Pandemic like the coronavirus occurs.
Incident Communication Plan Policy
Now Includes Social Networking as a Media Outlet
Compliant with ISO/IEC 27035:2011
NEW Electronic Forms - Incident Communication Contact Form
and Pandemic Planning Checklist
Order Incident Communication Policy Download Selected Pages
To survive an incident such as a business interruption, security breach, or a product recall, organizations need more than a successful communication strategy - they need an incident communication plan.
The overall objectives of a incident communications plan should be established at the outset. The objectives should be agreed upon, well understood, and publicized. For example, will the primary objective of the communications plan be for communications only to employees, and only during a disaster? Or is the intent to advise customers of interruptions to service? Or is it for investors and stockholders? Or regulatory agencies? Or is it some combination of these?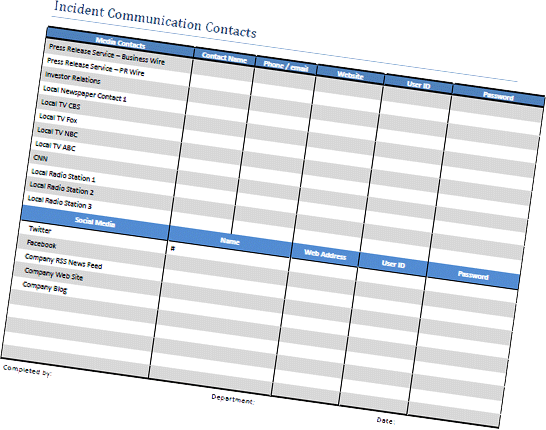 Whatever the objectives of the enterprise, they should be shared, supported by executive management, and widely communicated - both via traditional media contact and social networks. This policy template addresses those needs directly as well as provides electronic tools that aid in the execution of of the policy.
The specific objective of this incident communication plan is to define who will provide key communications during a crisis including content, recipients, schedule, method of delivery, frequency, and priority of the communication. By outlining a communication plan in advance, the business is better able to
Communicate the effects and status of a crisis for employees, associates, suppliers and customers,
Reduce the impact of bad publicity, maintain customer service, bolster relations with vendors and
Address the concerns of other key stakeholders

Order Incident Communication Policy Download Selected Pages
The policy template contains a clear definition of objectives along with an easily modifiable policy statement with guidelines for:
Media requests for information
Editorial or letter to the editor requests
Requests for interviews
Emergency responses (business continuity, security breaches, and other "bad news" situations)
Unannounced visits from media (TV reporters at your front door)
Press releases
In addition the template includes best practices for press conferences and media relationships, as well as a 3 page job description for a Director of Media Communications and social networking as a media outlet.
The Incident Communication Policy Template is the right tool for this task. With it you can successfully manage and control your enterprise's media communications that are related to your enterprise.
Order Incident Communication Policy Download Selected Pages
---
Other Policies
The policies have just been updated to comply with all mandated requirements and include electronic forms that can be Emailed, filled out completely on the computer, routed and stored electronically -- a total solution.
We have just completed a major update of all the individual polices and all of the electronic forms.
CIO IT Infrastructure Policy Bundle (All of the policies below are included as individual MS Word files and a single PDF file. Electronic forms are all individual documents that are easily modifiable)
Order IT Infrastructure Policies Download Selected Pages