Telecom Workers Long Tenure is a Risk
As Telecom "Baby Boomers" retire, there will be a short fall of "seasoned" IT Telecommunication professionals.
Telecom Workers Long Tenure is a Risk - The average tenure of Telecom professionals in 2016 was 6.0 years. That is well in excess of the 4.2 years for the total US labor force and 4.5 years for CIOs whom these professionals report.
In 2014, when the baby boomers born in 1949 started to retire there was a marked decrease in the tenure of Telecom professionals with the median tenure falling from 7 years and 9 months to six years in 2016.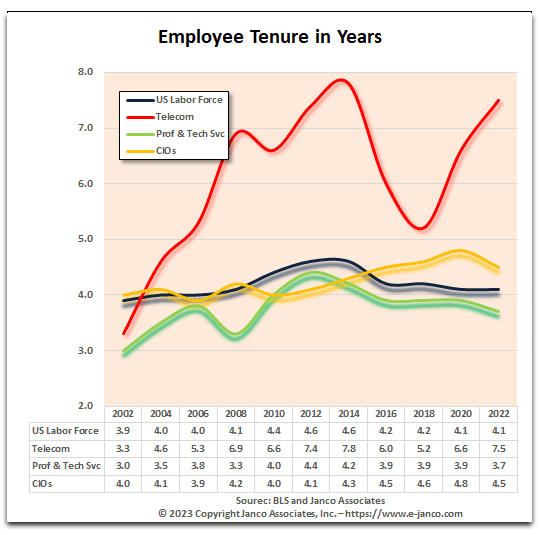 Over the next 24 months, the tenure for telecom workers will come down significantly. The question is will there be other around who can assume those responsibilities. If not, they what will the exposure be to enterprises for both security and service levels.
Now is the time that CIOs and CSOs need to have clear succession plans in place for not only Telecom pros but for all of those experienced resources that will be retiring soon.
Read On Order Classification Pay Grade System Download Selected Pages
Below is a table that shows the amount of shrinkage that has occurred in the telecommunications job market. Many of the jobs have been automated and there are fewer IT professionals who have the experience or skills to successfully operate in that environment. Imagine if you can that the same happened to the system analysts and computer programmers. How could those systems be maintained? What would it cost to train someone to not only to do the job but also to manage the function.
Historic IT Job Market Size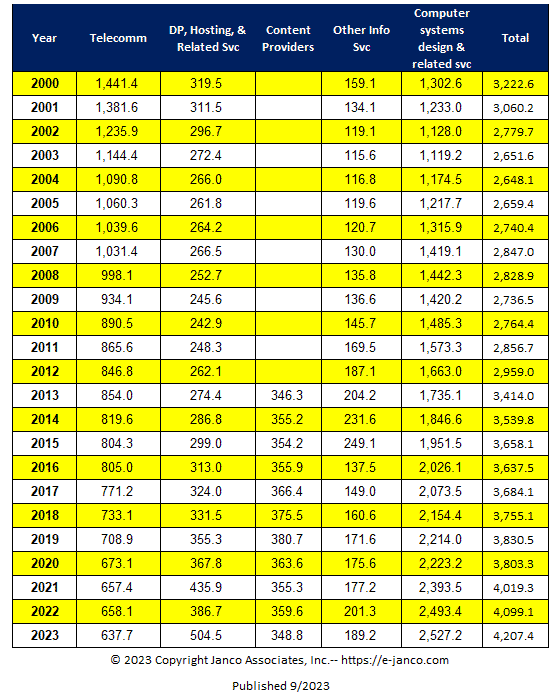 Data complied by Janco Associates with data as of September 2023
---

NOTE: the table below is updated automatically with the latest IT salaries when a new salary survey is published. That happens every January and June. The historical data is available.
---
Latest Median IT Salaries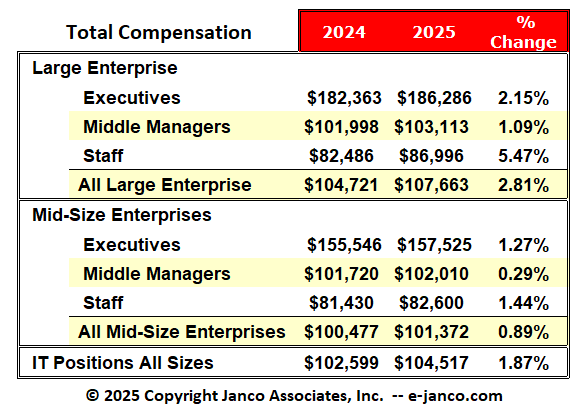 For the latest data go to the current IT Salary Survey
---