Blockchain Salaries Increase
Blockchain development and implementation is driven by the cyber economy. As a result those positions are in demand. In order to protect the staff that CIOs have in place they taken the defensive posture of increasing base pay, adding fringe benefits like additional vacation, and increasing bonus levels which are performance based.
On average the mean compensation for these positions has gone up by $2,338 to a mean of $112,042. That is higher than the mean salaries for all IT Professionals which in January 2019 was calculated $93,077. It is clear from the data, some of the highest paid positions in the IT function are releated to blockchain activities.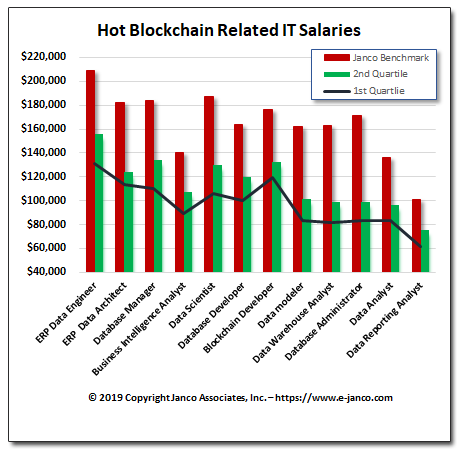 ---

NOTE: the table below is updated automatically with the latest IT salaries when a new salary survey is published. That happens every January and June. The historical data is available.
---
Latest Median IT Salaries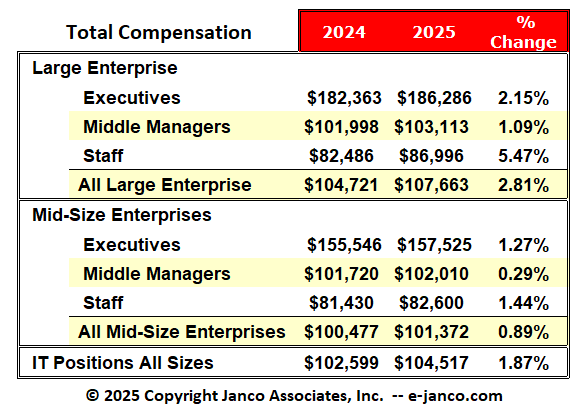 For the latest data go to the current IT Salary Survey
---
The data above was collected during the latest cycle of Janco's IT Salary Survey. The benchmark rate is the amount that organizations need to offer to recruit an experienced and qualified individual for that position in a major metropolitan area. The 1st quartile is the lowest quartile of actual compensation for that position. The top of the second quartile is close to the mean compensation for a position.
Read on Salary Survey Order Salary Survey Download Summary