Terminating Employees - Risk
Today it is riskier to terminate employees - protected classes and EEOC education drive employees to sue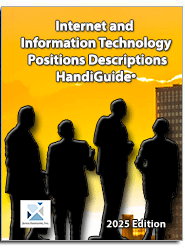 All companies need to be aware of wrongful termination cases and have an understanding of the EEOC regulations and guidelines. This should minimize allegations of discrimination or wrongful termination. Companies need to create a policy that will assist managers in terminating employees, reduce your risk of and mitigate wrongful termination allegations. Also managing documentation of performance issues in preparation for termination.
---
Internet & IT Position Description HandiGuide™

Included in the Handiguide are rules and an electronic termination checklist.
Order IT Job Description HandiGuide Sample Description Download TOC
---
Why this is an issue today
Employees more aware and knowledgeable of the workplace rights
Employees taking chances in making "a killing" by charging discrimination
Equal Employment Opportunity Commission (EEOC) establishing increased awareness on how employees can make these charges
New whistleblower protections for employees who turn in Employers
More resources on websites by Department of Labor (DOL) providing employees with ways to confirm if Employers are violating current regulations
Managers challenges as they terminate employees
How to terminate employees with dignity respect and within regulations
How to mitigate wrongful termination allegations before they happen
Follow a formal termination checklist that will reduce the risk when making a decision to terminate
Understand EEOC regulations and guidelines to prevent allegations of discrimination or wrongful termination
Have a policy that will assist managers/supervisors in terminating employees without fear of retribution from the regulatory agencies and employees
Train managers and supervisors how to reduce your risk since companies can be held liable for Managers/Supervisors with bad management and poor judgment in handling employees
How to document performance issues in preparation for termination
Have a termination process that will ensure consistency, fairness, objectivity and reduce risks
See also Employee Termination Process