Employee Termination Process Added to Security Template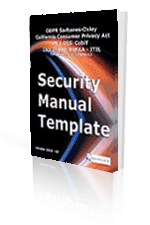 Park City, UT - Park City UT, - Employee Termination Process Added to Security Template - Janco Associates, Inc. (Janco), announced today the release of Version 7.1 of its Security Manual Template. New with this version is a process with forms and checklists to be used when an employee is terminated. This electronic document is over 200 pages and can be used in the creation of security policies and procedures for any size entity.
Janco's CEO, Victor Janulaitis said, "The process of creating effective policies and procedures that comply with mandated requirements such as Sarbanes-Oxley and the current security threats is daunting. Every corporation and organization needs a universal and comprehensive set of security processes to safeguard the use of their computers and all related equipment and information assets which support enterprise wide operations. The Security Manual Template meets those needs. "
The Security template complies with Sarbanes-Oxley, HIPAA, and the Patriot Act. The template includes a sensitive information policy and has been updates to include checklists for employee terminations and other security related forms.
In the age of information, organizations live and die on one thing, information. "Security breaches can have dramatic impact the information assets of every organization", stated Janulaitis. Therefore, implementing an understandable and useable set of security policies and procedures is a necessity.
Janco's Security Manual Template provides guidelines and actual policies and procedures for any organizations. It is a model any sized organization can use. It is comprehensive without being wordy or pedantic. The processes created are concise and easily understood by all employees. "The template has checklists and examples of what is needed to get secure information assets, systems and networks. Janco's work with clients who have suffered security breaches has been used in creation of this inexpensive template", asserted Janulaitis. "The template is the blueprint that can be used by any organization".
The Security Manual Template is available in electronic download format. To order the Template and to learn more about other Janco's publications and products visit our security manual template description page.

Read on Order Security Manual Template Download sample
Employee Termination Process