Data Scientist Compensation Varies by Metro Areas
Data Scientist are in demand by organizations across the US. The highest demand areas are center around metro areas that have major universities. The greatest demand is on the West Coast which have about 53% of all the existing positions, followed by the East Coast, centered around Boston and the District of Columbia at 33%, and the Mid-West with 13%.
The US national median salary is $120,038 with a minimum salary of $113K and maximum of $138K. This data is all based on Janco Associates IT Salary Survey data collection processes.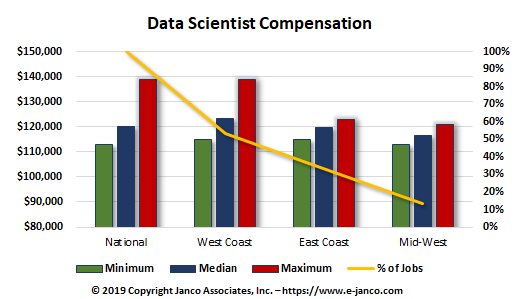 Salaries are the highest in salaries are in the Bay Area of the West Coast with San Jose area at $138K. The lowest median salaries for Data Scientist are in the Detroit metro area at $113K. Location does matter. The driving force behind the need for the Data Scientist is the move towards various technologies including: Blockchain, DLT, ERP and Enterprise Management.
Data Scientist – Position Purpose
The Data Scientist's role is to advocate, evangelize and build data-fueled products that help enterprise customers improve outcomes. The Data Scientist is detail oriented and is an expert on the data sets utilized by the enterprise. The Data Scientist provides insight into leading analytic practices, design and lead iterative learning and development cycles, and ultimately produce new and creative analytic solutions that will become part of the enterprise's core deliverables.
The Data Scientist drives initiatives to improve the monetization of enterprise's IT applications including the website and mobile experience while delivering consumer analytics efforts to better understand how users engage with the enterprise's digital products.
This role is tied to several others including: Chief Experience Officer, Chief Mobility Officer, Chief Digital Officer, and the Vice President Strategy and Architecture. There process to recruit professionals for these roles is difficult at best and daunting as a standard process. To that end Janco has developed a bundle of 14 job descriptions which C-Level management can utilize in the hiring of these IT and operational professionals.

Read on Order Data Scientist Job Description