Digital transformation shifts CIO and CTO priorities as a result of Covid-19 and shutdowns
Companies are going through a digital transformation because of Covid-19 and related shutdowns. The focus CIOs and CTOs to utilize technology to:
Drive increased business and top-line revenue growth
Support Work From Home (WFH) staff
Improve customer experience and satisfaction
Improve operational efficiencies
Support save separation for employees, suppliers, and customers
According to a recent digital transformation survey, 99% of businesses are engaged in some stage of a digital transformation. But the digital transformation journey is not without challenges. Businesses struggle with everything from skills gaps to security, from data migration to application performance.
Among global CIOs and CTOs surveyed about their companies' digital transformations, 44% said that improving customer experience and satisfaction was a key goal, and 41% cited improving operational efficiencies. Tactical steps toward achieving these goals include deploying automation to increase agility, leveraging data to make critical decisions, and streamlining operations to reduce costs.
Compliance, data protection, and security are necessary components of the digital transformation process.
Cloud Processing is the solution of choice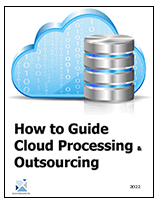 As interest in cloud computing gains momentum in the digital transformation processes, there is confusion about what cloud computing represents. Without a common, defined vocabulary and a standardized frame of reference, organizations cannot have a cogent discussion about cloud computing and digital transformation. The practical guide for cloud computing outsourcing addresses this challenge by providing a context for productive discussion and a structure for planning, both short- and long-term, for a successful implementation.
With the growth of cloud computing and software-as-a-service initiatives--there is a disturbing trend of some enterprises trusting performance monitoring to the vendors. Also, Cloud processing is impacting many if not most outsourcing decisions. It enables CIO and IT professionals to access services and technologies on an incremental, pay-as-you-go basis at the moment it is needed, eliminating the need to sign one or two-year contracts.

Nearly six of 10 enterprises outsource some critical function--management, engineering, or development; almost one-fourth keep executive and management functions in-house but look to outsource everything else. As companies rely more on outsiders, a lack of oversight, management, and even monitoring can have catastrophic consequences.
CIO and CTO Management Tool Kit
To address digital transformation, the CIO Management Tool Kit has everything CIOs, CTO, and IT management need.
---
2023 Edition of IT Management Tool Kit Released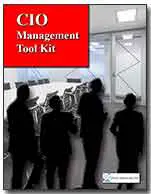 CIOs and CTOs are in a constantly evolving field, however world class CIOs and CTOs focus on three areas to help them manage more effectively. They are:
Technology
People
Infrastructure
Over 2,500 pages of "Best Practices", tips and techniques, policies, procedures, job descriptions, electronic forms and much more. Ready for immediate download.
Read on Order CIO Management Tool Kit
---
The CIO Management Tool Kit (IT Managementt) components are over 2,500 pages in length is provided in MS WORD and PDF formats and includes the following:
Security Manual Template
How to Guide for Cloud Processing and Outsourcing
IT Job Family Classification HandiGuide
All of the Job Descriptions as individual MS Word files
Interview and Hiring Guide
Latest IT Salary Survey
IT Infrastructure Policy Bundle plus Electronic Forms
Business and IT Impact Questionnaire
Vulnerability and Threat Assessment Tool
Read on Order CIO Management Tool Kit