Hiring of IT Pros slows and number of unfilled IT jobs falls
AI an ML skills still in demand - Number of coder openings falling
After an early spike in the number of openings for IT professionals in the early summer, the number of unfilled openings for IT professionals fell from 201K in August to 160K in September. This reflects a pullback from the peak of 254K opening in July.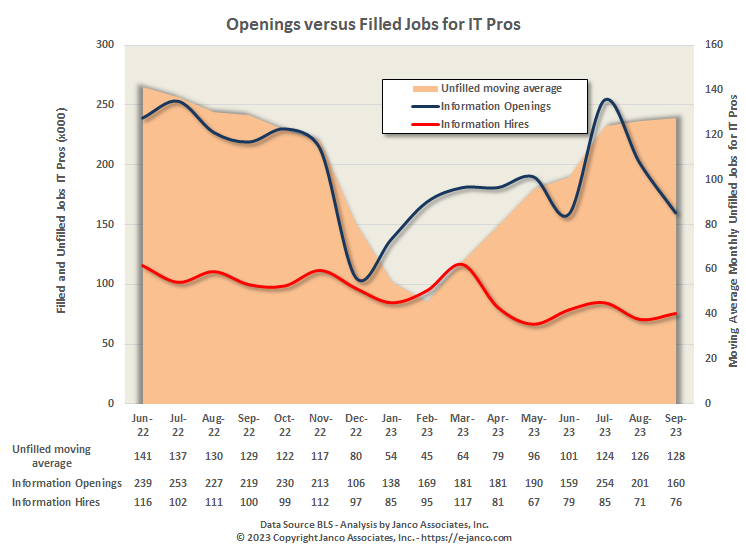 Who and What are IT Professionals
IT Pros have invented the technologies that most of the general population takes for granted. For example, where did the application that rings, sings, or buzzes you out of a deep sleep every morning come from? An IT Pro helped define, design, implement, and distribute it. When arrive in the office and turn on your computer, clicking and scrolling through social media, music, and your personal calendar IT Professionals have a big hand in shaping those, too.
Now not only do we do online shopping, thanks to IT Pros, but before we make a purchase some of us check our bank account balance using our phone. During the course of the day, it is clear that IT Professionals are the masterminds behind the technologies that most of us can't imagine living without.
The best IT Professionals are creative and have the technical expertise to carry out innovative ideas. You might expect IT Pos to sit at their desks designing applications all day and they do, but their job involves many more responsibilities. They could spend their days working on a client project from scratch and writing new code. But they could also be tasked with maintaining or improving the code for programs that are already up and running.
IT Pros also check for bugs in software. Although the job involves focused concentration, IT Pros must collaborate with others, including fellow IT Pros, managers, or clients. These individuals are natural problem solvers who possess strong analytical skills and the ability to think outside the box.
IT Pros are employed in a range of industries, including computer systems design, manufacturing, and finance. The Bureau of Labor Statistics projects 26.0% employment growth for IT Pros between 2021 and 2031.
Why is job growth slowing for IT Pro?
There are multiple factors driving this current trend.
Many companies have included in their budgets for next year a forecast for an economic picture that is poor at best.

Hiring interest rates are impacting the costs associated with many business expansions. This in turn is slowing the approvals for advances in the implementation of new IT technologies.

Continued remote working is limiting the synergy of workers. Many new ideas and solutions to operational problems are developed when technologists and operational staff work together. Technology solutions that can benefit from this type of exposure are not occurring.

Some AI and ML solutions have been implemented and have resulted in lower staffing levels. For example, one of our clients has chosen to use AI to generate code and scripts that are easily modified by senior-level technologists versus hiring coders to do the same job.
These factors on top of the current international turmoil, with two major wars, and a looming contentious set of elections in the US are only adding to the uncertainty. That uncertainty is adversely impacting job growth not only in technology and general business.
Infrastructure needs to be re-evaluated
Now is a good time for CIOs and IT Managers to re-evaluate the strategy and infrastructure in place to see how they need to be adjusted to meet the challenges of the new operating environment. The focus should be on how and where are IT Pros deployed.
Read On Order IT Infrastructure Policies Download Selected Pages