Starting Salaries for New Hires with Certifications
Certifications and Salaries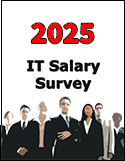 Hiring the Right Staff - Key Challenge - While hiring the right people may appear more obvious in small, entrepreneurial companies, it is also true in larger companies. The right people might have the foresight to help an enterprise change and keep up with their industry. With the right people, you can move ahead and you will have a team that supports your success.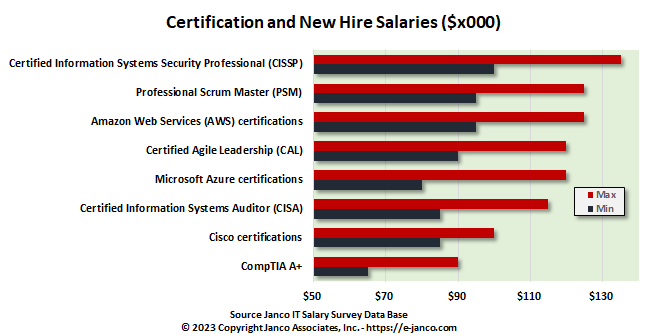 With new hires it is often difficult to validate the experience and competency of candidates being interviewed. If a candidate has formal certification, that often makes the process easier.
Several common certifications and benchmarks for starting salaries are listed.
Certified Information Systems Security Professional (CISSP) - $100K to $135K
This is an advanced certification that is best suited for those in roles such as CISO, CIO, director of security, IT director or manager, security systems engineer, security analyst, security manager, security auditor, security architect, security consultant, and network architect. The certification is a vendor-neutral certification that covers topics such as organizational structure, security and risk management, asset security, security operations, identity, and access management (IAM), security assessment and testing, and security architecture and engineering.
Professional Scrum Master (PSM) – $95K to $125K

Scrum is an agile framework for developing, delivering, and sustaining complex products, with an initial emphasis on software development, although it has been used in other fields including research, sales, marketing, and advanced technologies. The Professional Scrum Master (PSM) certification is one of several Scrum-focused certifications for validating that an individual has knowledge of the Scrum framework, and the ability to apply it. There are three (3) levels of certification: PSM I, PSM II, and PSM III. Each level covers a different scope and depth of the Scrum framework. At the entry level, the PSM certification covers the fundamentals of Scrum, focusing on the terminology and application of Scrum in Scum Teams. At the second level, the PSM certification focuses on Scrum Master accountabilities, and dives deeper into how Scrum Teams function. At the third, and highest, level of certification, the PSM exam covers deeper knowledge, how to use Scrum to help influence organizational change, and how to coach and teach others on the Scrum framework.


Amazon Web Services (AWS) certifications - $95K to $125K

For solutions architect, application architect, cloud data engineer, software development engineer, systems administrator, cloud engineer, test engineer, cloud DevOps engineer, DevSecOps engineer, cloud security engineer, cloud security architect, network engineer, and machine learning engineer. It's a vendor-specific certification that will benefit anyone who is tasked with working directly with AWS products and services or looking to make good on the high demand for cloud skills today.


Certified Agile Leadership (CAL) – $90K to $120K

The certification is targeted at agile team members, managers, organizational decision-makers, change leaders, executives, coaches, consultants, and aspiring or current supervisors/managers. Certification is custom-designed by individuals who have demonstrated years of real-world experience and success coaching others and implementing agile in the workplace.


Microsoft Azure certifications - $80K to $120K

These are vendor specific sets of certifications. This is a set of certifications to validate the individual's skills and abilities working with Azure. There are several versions of certification, including ones designed specifically for roles such as administrator associate, security engineer associate, solutions architect, IOT developer, database administrator, data engineer, data analyst, AI engineer, and data scientist. Microsoft also offers certifications focused on fundamentals, specific job roles, or specialty use cases. Certifications range in expertise and experience from the fundamental level up to expert. The certification enables IT pros to validate that they have the specific skill set and knowledge that businesses are looking for when it comes to leveraging Azure in the workplace.


Certified Information Systems Auditor (CISA) - $85K to $115K

The certification covers high-level topics such as the information systems auditing process, governance and management of IT, operations, and business resilience, and IS acquisition, development, and implementation. This certification is a globally recognized certification for IS audit control.


Cisco certifications - $85K to $100K

These are vendor specific set of certifications. Certifications are offered in a variety of topics such as collaboration, CyberOps, data centers, DevNet and automation, design, enterprise networking, and security. The certifications are designed for network engineers, system engineers, CyberOps analysts, and network security analysts who want to grow and certify their skills and expertise.


CompTIA A+ - $65K to $90K

This is an entry level certification which is for recent college graduates or new entrants in the IT job market. This certification covers the foundations of hardware, technical support, and troubleshooting. The certification is designed for those interested in a career as a service desk analyst, help desk tech, technical support specialist, field service technician, help desk technician, associate network engineer, data support technician, desktop support administrator, or end user computing technician.

Read on Salary Survey Order Salary Survey Download Summary