HIPAA Compliance - Business Continuity Standard
Fully compliant with HIPAA in MS Word Format - delivered electronically
The HIPAA Privacy Rule provides federal protections for personal health information held by covered entities and gives patients an array of rights with respect to that information. At the same time, the Privacy Rule is balanced so that it permits the disclosure of personal health information needed for patient care and other important purposes.
Order HIPPA Audit Program Download Sample
The Security Rule specifies a series of administrative, physical, and technical safeguards for covered entities to use to assure the confidentiality, integrity, and availability of electronic protected health information. This places unique challenges to the Business Continuity and Disaster Recovery Planning processes.
In most organizations, Business Continuity, Disaster Recovery are the quintessential complex, unfamiliar task. Disasters happen so rarely that recovery operations are the opposite of routine. What's more the myriad, interconnected data, application and other resources that must be recovered after a disaster make recovery an exceptionally difficult and error-prone effort. Even if you have never built a HIPAA compliant plan before, you can achieve great results. Just follow the tTemplates that Janco has created and you will have a functioning plan before you know it.
Preparation for Security in Disaster Recovery / Business Continuity in light of SOX has two primary parts. The first is putting systems in place to completely protect all personal, financial and other data required to meet the mandated compliance regulations and to archive the data to meet future requests. The second is to clearly and expressly document all these procedures so that in the event of a HIPAA and SOX audit, the auditors clearly see that the plans exists and will appropriately protect the data.
Janco's Disaster Recovery and Business Continuity Template Complies with the HIPAA Requirements
---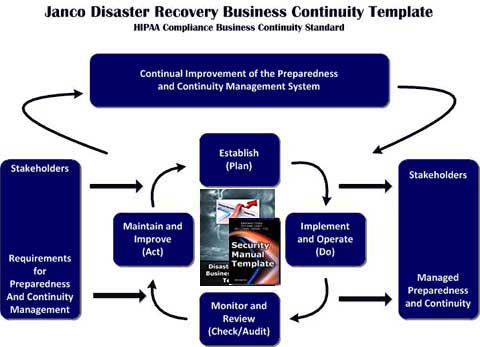 If you follow the workplan provided with the Templates and complete all of the activities you will be able to pass HIPAA audit.
The options to acquire the template include:
Disaster Recovery Business Continuity & Security Manual Templates Premium
Disaster Recovery Business Continuity Template - Standard Edition


Security Manual Template - Standard Edition


41 Job Descriptions including:

CIO; CCO; Chief Digital Officer, Chief Experience Officer, Chief Mobility Officer, CSO; VP Strategy and Architecture; Data Protection Officer, Director e-Commerce; Database Administrator; Data Security Administrator; Manager Data Security; Manager Database; Manager Disaster Recovery; Manager Disaster Recovery and Business Continuity; Pandemic Coordinator; Manager Facilities and Equipment; Manager Media Library Support; Manager Network and Computing Services; Manager Network Services; Manager Site Management; Manager Training and Documentation; Manager Voice and Data Communication; Manager Wireless Systems;Capacity Planning Supervisor; Disaster Recovery Coordinator; Disaster Recovery - Special Projects Supervisor; Network Security Analyst; System Administrator - Unix; System Administrator - Windows
Disaster Recovery Business Continuity & Security Manual Templates Gold
Disaster Recovery Business Continuity Template - Standard Edition


Security Manual Template - Standard Edition


324 Job Descriptions which includes all of the job descriptions in the premium edition
"Best of Breed - Best Practices Disaster Recovery Planning / Business Continuity Planning, Security Policies, IT Job Descriptions" according to the IT Productivity Center
Order DRP BCP Security Bundle Download Sample