Compliance with ISO Business Continuity Standard
---
ISO 22301 is the latest ISO Business Continuity standard. It is called "Societal security - Business continuity management systems - Requirements". Although societal security may sound a little strange in relation to business continuity, here is how ISO defines it: … standardization in the area of societal security, aimed at increasing crisis management and business continuity capabilities, i.e. through improved technical, human, organizational, and functional interoperability as well as shared situational awareness, amongst all interested parties.
Janco's Disaster Recovery and Business Continuity Template Complies with the Plan-Act-Do-Check as Defined by ISO
---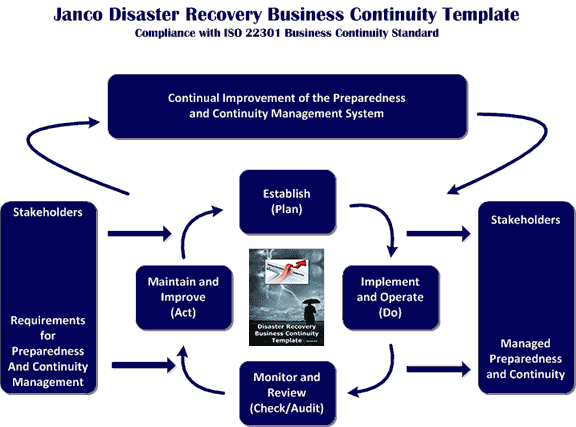 In most organizations, DR is the quintessential complex, unfamiliar task. Disasters happen so rarely that recovery operations are the opposite of routine. What's more the myriad, interconnected data, application and other resources that must be recovered after a disaster make recovery an exceptionally difficult and error-prone effort. Even if you have never built a DR plan before, you can achieve great results. Just follow the DR Template that Janco has created and you will have a functioning plan before you know it.
Preparation for Disaster Recovery / Business Continuity in light of SOX has two primary parts. The first is putting systems in place to completely protect all financial and other data required to meet the reporting regulations and to archive the data to meet future requests for clarification of those reports. The second is to clearly and expressly document all these procedures so that in the event of a SOX audit, the auditors clearly see that the DRP exists and will appropriately protect the data.
If you follow the workplan provided with the Template and complete all of the activities you will be able to pass an ISO 22301 audit.
The options to acquire the template include: