CIO and IT Pros' Guide to Disaster Planning and Recovery

Recovery - Regulations - Crisis Management - Solutions - Readiness

Don't leave your organization unprepared for the next crisis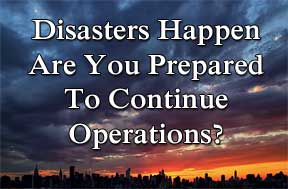 Are you prepared to prevent and correct corrupted files, lost data, losing a server, cloud outages or worse? Can you afford the aftermath of any size disaster -- big or small?

Whether by human error, hardware failure, electrical disruptions, or natural disaster, system failures simply WILL happen. The most effective way to lessen the impact and recover from them quickly is careful preparation - done today - so your recovery plan is in place when you'll need it!

Janco's Disaster Recovery Business Continuity Template, covers a wide range of topics designed to help you more fully prepare for any type of disaster. It is the essential tool for organizational resilience and survival. It is the ideal for CIOs, IT Pros, and Business Continuity practitioners seeking a…
State of the art presentation of the global body of knowledge for DR/BC, including current international standards and best practices.


Flexible, modular design that allows you to create a customized business continuity plan:



Provides real world text with clear definition of fundamental principles and practices;


Detail on Information Technology and Emergency Management for those focusing in these areas;


20 page Business and IT Impact Questionnaire; and


Detail work plan, business impact, and business continuity management, which is task oriented. Both the Business Continuity Planning Organization and the IT Productivity Center (ITPC) have endorsed the book.



Quick reference for your business continuity team offering a readable blend of academic principles and practical applications—an effective tool for grounding interdepartmental teams developing and maintaining BCP plans.
Don't be caught unprepared! CIOs and IT Pro's must make disaster planning a top priority if they are to prevent data loss and maintain business continuity in times of crisis.


---
(updated 8/2018)
The template address a number of areas of concern that haunt many organizations. Included are:
What threats does the organization face? Wild Fires? Terrorism? Hurricanes? Ransomware?
Is the organization a target to cyber attacks?
Are the facilities secure?
Is there redundancy in connectivity and power?
What kind of impact would any resulting disruption have on our business?
Which systems and apps are most critical to our business?
Are systems and apps on premises or elsewhere?
Which architecture model is used - and associated risks (distributed, centralized, cloud, hybrid, Windows, Linux, etc.)?
How much would downtime cost us? Per minute, hour, day, week?
When was the plan test last?