IT Governance Book and Infrastructure Strategy for World Class Organizations
Pandemic Planning Checklist and Employee Termination Checklist Electronic Forms Included
IT Governance - As you begin to prepare for the your budgeting cycle the importance of the IT Governance process can not be stressed enough.  Right now the technology function is undergoing a rapid evolution as the importance of social media and the digital resources are changing the ways that enterprises operate, employees and enterprise associates interact on a day-to-day basis, and customers and suppliers access enterprise assets remotely.  That along with the exposures and risks that places on critical and sensitive information place stresses on the traditional governance models that are in place.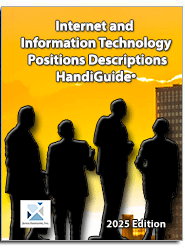 To support the process the IT Governance offering includes these ten (10) full job descriptions:

Chief Information Officer (small enterprise)
The IT Governance Infrastructure, Strategy, and Charter Template addresses every critical governance and infrastructure issue including: IT management structure; strategies and and responsibilities; priority setting; personnel practices; ERP and Omni Commerce; compliance and controls;  and security/access controls.

It is delivered electronically immediately on ordering v, it is provided in three formats: MS WORD, pdf, and ePub (eReader).
You can order either 12 or 24 months of update service. The versions of the IT Governance template are:
Standard – Template and 10 full IT Management job descriptions
Silver – Everything in the standard edition plus 70 electronic forms
Gold – Everything in the silver edition plus 20 world class IT Infrastructure policies
Platinum – Everything in the gold edition plus 324 full IT Job Descriptions
IT Governance Tool Kit Versions
The CIO Infrastructure Management Tool Kit comes in four versions - Standard, Silver, Gold, and Platinum.
Order IT Governance Infrastructure Download Selected Pages