Janco launches CIO Infrastructure Policy Bundle with upgrades to record management and version control processes
Major revisions were made to the Record Management, Retention and Disposition Policy and the Patch Management Version Control Policy in Janco's CIO IT Infrastructure Policy Bundle
Park City, UT - Janco Associates, Inc. - Janco launches CIO Infrastructure Policy Bundle with upgrades to record management and version control processes - Janco Associates Inc. (e-janco.com) has just released updates for 3 products: Record Management, Retention, and Disposition Policy; Patch Management Version Control Policy ; and the CIO IT Infrastructure Policy Bundle .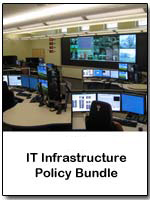 The CEO of Janco Associates, Mr. M.V. Janulaitis said: "CIOs are under pressure to meet expanding compliance requirements at the same time as they continue to update software and applications to meet operational demands. Record management (including retention, retrieval, and disposal), and software/application version control with good patch management processes are key. To that end Janco has updated its CIO Infrastructure Policy Bundle and the associated individual policy templates. " The CEO added, "Each of the IT policies in this offering are integral to the implementation and operation of effective and efficient infrastructure in the ever changing technologically based business environment." In addition, he said, "In the last several months 9 of the 17 procedures and all of the electronic forms have been updated in Janco's continuing efforts to see that all of it offerings are current and meet all mandated compliance and security requirements. "
The president expanded saying, "All of these new versions of our policies are available with both 1 year and 2 year update service so users do not have to worry about increased costs and risks associated with outdated policies. "
The policies are available as individual items or in the CIO IT infrastructure policy bundle that comes in four versions. The price is based on the core offering and whether the user selects 2 years of update service:
Standard - IT Infrastructure Policy Bundle
Silver - IT Infrastructure Policy Bundle and Electronic Forms
Gold - IT Infrastructure Strategy Template, Electronic Forms and all of the CIO IT Policies
Platinum - IT Infrastructure Strategy Template, Electronic Forms, all of the CIO IT Policies, and all of the IT Job descriptions in MS Word Format.
All of Janco's products are delivered electronically in formats that are easily customizable by the user. Janulaitis said, "We have clients in over 100 countries that rely our leading edge products. We will continue to be on the forefront of infrastructure management as that is the strength of Janco. "
Janco is an international consulting firm that follows issues that concern CIOs and CFOs and publishes a series of IT and business infrastructure HandiGuides™ and Templates including a Disaster Recovery/Business Continuity Template, Security Template and IT Salary Survey.
CIO IT Infrastructure Policy Bundle - Options Available
The CIO Infrastructure Policy Bundle comes in four versions - Standard, Premium, Gold, and Platinum.
Order Infrastructure Policies Download Selected Pages