Fewer new IT Jobs added in 2015 than 2014
For the second month in a row Janco has revised its forecast down for the total number of new IT jobs created in 2015
Janco's peak forecast was for 160,000 new IT jobs in 2015 - the current forecast is 129,100.
Janco has just reviewed the latest employment data form the BLS which shows a further slowing in the creation of new IT jobs. The CEO of Janco, M.V. Janulaitis said, "1,100 fewer new IT jobs were created in 2015 than in 2014. This means that 2015 will go out with a whimper. Several factors are the cause of this with the economy being the primary one. " The CEO added, "There are some bright spots in the IT employment picture which are based on location, with the San Francisco Bay area and Boston leading the pack. In those markets experienced IT professionals are in high demand and many open positions exist. "
Updated with the latest IT Job Market statistics
Historic IT Job Market Growth Trend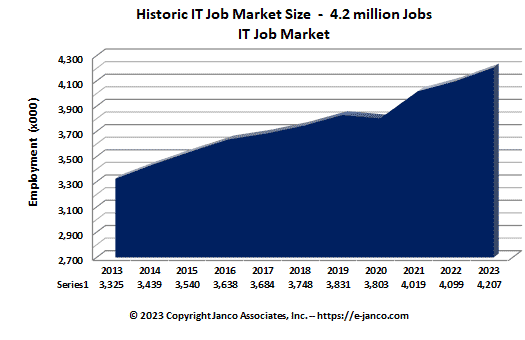 For current analysis of this data, go IT Job Market Size to see the historic job market growth trend data
Data as of September 2023
Janulaitis said, "In the heartland of the country, new IT jobs are few and far between. Our analysis shows a continued shifting of IT jobs away from the middle of the country to the coasts. We even see Texas as not as bright a spot for IT jobs as it had been for several quarters. "
Janco, in interviews with 87 CIOs across the country, finds that CIOs are now more cautious in their hiring. Data from the BLS shows that the rate of increase in the number of IT jobs is slowing. After reviewing the data and factoring in Janco's interviews with CIOs, Janco has revised its forecast for the number of IT jobs to be created in 2015 from a peak forecast of 160,000 new IT jobs to 129,100.
In addition the CEO said, "From what we have seen, we think that the possibility of a major up-turn in new IT hiring is slight at best. " Also he added, "With the recent volatility in the financial markets, election year uncertainty, and international instability; CIOs and executive management will need to make some very difficult decisions over the next several months.
Expanding on his comments, Janulaitis said, "On the plus side, CIOs report they are still allowing limited incremental spending for IT related activities. " There is significant activity is in the standardization of IT job titles and pay grades. The CEO said, "We have seen significant interest in our IT Job Family Classification System and the alignment and standardization of pay grades. " See more information at IT Job Family Classification System.
Order Salary Survey Download Sample Provide Data