IoT Manager: Expanding Role of IT
Businesses today need a small army of information technology managers, administrators and technicians to compete in an increasingly digital market
by Angus Loten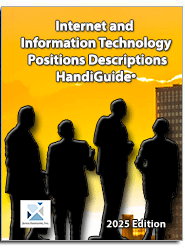 IoT Manager: Expanding Role of IT - Nowhere is the talent need more evident than in the growing diversity of IT-related job titles and descriptions posted on tech job boards and career websites - from familiar positions, like network engineers, to Bring-Your-Own-Device support specialists, Internet-of-Things managers and other gigs.
Technology consulting firm Janco Associates Inc. , in its latest handbook of corporate IT jobs, identifies a total of 273 job titles, up from less than 100 when the firm first began tracking IT job titles in 1989.
Typically, all report to the company's chief information officer. As such, the annual handbook, set to be released this week, offers a glimpse into IT's growing importance in day-to-day business operations, says Janco Chief Executive M. Victor Janulaitis.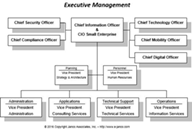 IT Executive Management Organization Chart (click to enlarge)
"These jobs are becoming much more operationally focused than in the past," Mr. Janulaitis told CIO Journal Monday. As technology's business role has evolved, Mr. Janulaitis said, "the role that IT managers have in core business systems has expanded. " Today's front-office staffers are involved in daily business decisions, including creating and managing new revenue streams.
Take the Internet-of-Things manager, one of three new positions added to the 2016 handbook. A senior-level position, it calls for a manager to oversee the "implementation and maintenance of technical systems support as well as data transmission and retrievals from field controllers" - that is, high-tech sensors designed to gather reams of data on customers, clients, users and other sources via the burgeoning Internet-of-Things, or IoT - the handbook says.
A key challenge for the IoT manager, according to the handbook, is to ensure senior executives are getting reliable field data that can "readily support the enterprise's daily business operations. "
Likewise, the cloud computing architect, a position added last year, provides "technical leadership and direction in implementing cloud computing and virtualization practices within the enterprise" in order to meet "service-level commitments. "
Android programmer and manager green initiatives were the two additional titles added to the 2016 handbook. Other new job titles in recent years include chief digital officer, chief mobility officer, and manager vendor management, as well as enterprise resource (ERP) developrs, business analysts, data architects, security administrators and trainers.
Order IT Job Description HandiGuide Sample Description Download TOC