Forecast fewer new IT jobs will be created in 2016
As hiring slows, Janco predicts that just over 100,000 new IT jobs will be created in the US job market in 2016 versus the 113,000 created in both 2014 and 2015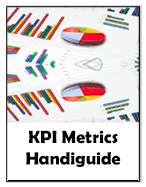 Park City - UT - www.e-janco.com – Forecast fewer new IT jobs will be created in 2016 - Janco has just reviewed the latest employment data from the BLS. First, the BLS has provided lower revised numbers of new IT jobs created in 2015 - now the BLS says that 113,000 new IT jobs were created in 2015 versus 125,700 that was reported in the BLS's January data release. At the same time Janco's analysis of the BLS data shows that the moving average of new IT jobs created continues to fall and is currently close to zero.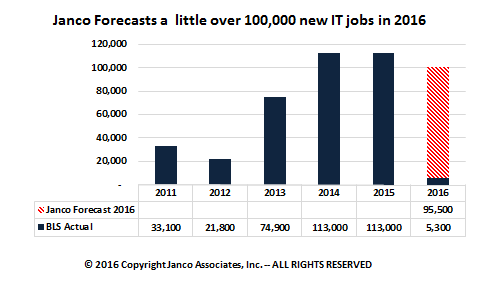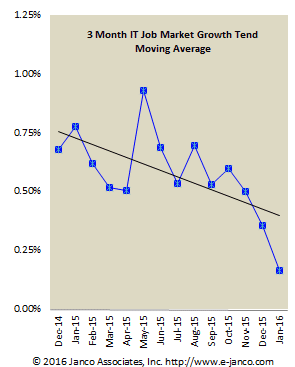 The CEO of Janco, M.V. Janulaitis said, "The revised BLS data now shows that only 113,000 new IT jobs were created in 2015 - that is the same number of new IT jobs created in 2014. That data adjustment by the BLS magnifies the slowing in new IT job creation. " The CEO added, "The recent negative moves in the stock market along with the plummeting of Internet stocks has many CIOs and CFOs worried. As a result, CIOs and CFOs are putting the brakes on new IT initiatives which do not have strong executive management support. " As confirmation of that fact, Michael Janulaitis, a software architect, who deals with leading edge productivity solutions, said, "CIOs are now much more reluctant to start new initiatives and accordingly are not opening new requisitions for staff. "
M.V. Janulaitis stated, "In our recently released 2016 IT Salary Survey, we found that IT salaries for the most part have remained flat with the overall increase for all positions in organizations of all sizes was only 1.39%. Granted the average salary for IT professionals was $81,355 in 2015 and is targeted to be $82,483 but without new opportunities there is little likelihood that there will be a strong move up across the board. "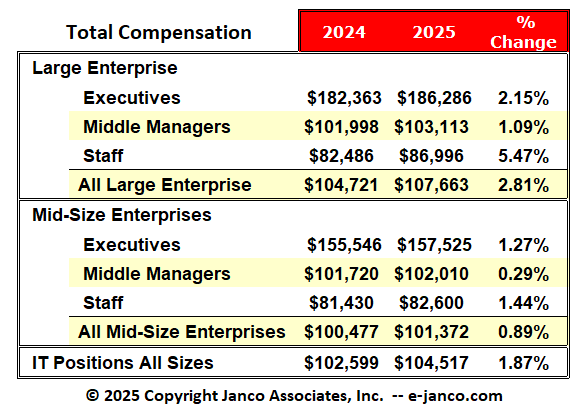 Updated with the latest data
Read on Salary Survey Order Salary Survey Download Summary
When Janco analyzed the recent employment data provided by the BLS, we found that 5,300 new IT jobs were created in January 2016 versus 15,900 last year at the same time. The CEO of Janco said, "The BLS did reclassify some jobs from the Telecommunication category to the Computer System Design and Related Services, but that was a push and in aggregate the result was that fewer new IT jobs were created. In support of this, our interviews of 47 CIOs in the last few weeks have them being much more pessimistic than they have been as group in some time.
This chart is not the originally published one, rather it is updated with the current data based on the analysis by Janco Associates, Inc. For the latest IT Employment Data click here.
---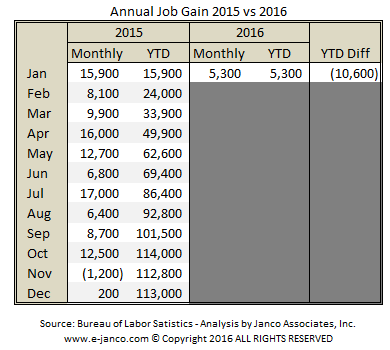 In addition, the CEO said, "From what we have seen, we think that the possibility of a major up-turn in new IT hiring is slight at best. " Also he added, "With the recent volatility in the financial markets, election year uncertainty, and international instability; CIOs and executive management are balancing expectations with the reality of the uncertainty their enterprises face.

The CEO also said, "On the plus side, CIOs report they are still allowed limited incremental spending for IT related activities but they are required to have good business cases with support from the operational side of their enterprises. Few IT initiatives are being approved to upgrade technology for the sake of IT's desire to have the latest new thing. "
There is significant activity is in the standardization of IT job titles and pay grades. The CEO said, "We have seen significant interest in our IT Job Family Classification System and the alignment and standardization of pay grades. "
Read On Order Classification Pay Grade System Download Selected Pages
Janco is an international consulting firm that follows issues that concerns CIOs and CFOs and publishes a series of IT and business infrastructure HandiGuides® and Templates including a Disaster Recovery/Business Continuity Template, Security Template and IT Salary Survey.