Tablets are a wave of the future
---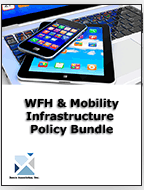 Tablets are a wave of the future - Tablets are no longer a fad that can be ignored by CIO's. Tablets are a critical component of the overall IT and operational infrastructure of enterprises.
Tablets are at the same place that PCs were when they were first introduced. CIOs who ignored that trend lost and the same will happen to CIOs who ignore the tablet trend.
Today 41 percent of today's mobile workforce is equipped with a tablet, and by year's end, that figure could reach 75 percent, according to survey results. Employees aren't just using their slick portable machines to play games; 87 percent of workers with tablets say they use the machines for actual job purposes. To verify that, just go to any airline travel club and see the number of business travelers who are use tablets in lieu of PCs.
This trend leaves CIOs and  IT departments with two choices: They can stick their heads in the sand and ignore tablets, thus risking security breaches, employee ire, and lost opportunities, or they can accept this next wave of mobile computing and adapt policies and practices accordingly.
Evidently, end-users are already adapting their work practices to tablet use. Only 27 percent of workers with tablets received them from their respective organizations, meaning 73 are using their tablets for work, whether or not IT approves.
Mobile workers are using their SmartPhones and tablets for a range of business-related purposes beyond just checking email: 47 percent of the total respondent pool (those who may or may not have tablets) said they use their devices for taking notes, 39 percent use them for contact and contract management, 33 percent said they check into office suites via their portable devices, 30 percent sign in to social media for work purposes, and 25 percent said they engage in Web conferencing via their tablets or SmartPhones.
Interesting Statistics
31.7 percent said they use laptops, whereas 48.2 percent said they use their tablets. Just under 6 percent said they use their SmartPhones for taking notes.
Tablet owners also prefer their tablets for video streaming: 66.4 percent use their tablets to view video, whereas 25.4 percent use their laptops. Only 4.3 percent use SmartPhones.
For Web conferencing, the laptop is the hardware of choice: 63.8 percent of tablet owners said they use their laptops for the tasks, while 26.2 percent use their tablets, and 5 percent use their SmartPhones.
Additionally, more tablet owners, 79.9 percent in all, turn to their laptops for editing documents. Just 15.2 percent edit docs in their tablets, while a mere 0.7 percent use their SmartPhones.
The SmartPhone does have bragging rights as the preferred platform for checking email. Among respondents who own tablets, 35 percent check their email on their SmartPhones. 33.2 percent use their laptops while 29.9 percent use their tablets.
Mobile Device Access and Use Policy
The purpose of this policy is to define standards, procedures, and restrictions for end users who have specific and authorized business requirements to access enterprise data from a mobile device connected via a wireless or unmanaged network outside of Enterprise's direct control. This policy applies to, but is not limited to, all devices and media that fit the following device classifications:
SmartPhones
PDAs
USB applications and data
Laptop/notebook/tablet computers
Ultra-mobile PCs (UMPC)
Mobile/cellular phones
Home or personal computers used to access enterprise resources
Any mobile device capable of storing corporate data and connecting to an unmanaged network
The policy applies to any hardware and related software that could be used to access enterprise resources, even if the equipment is not approved, owned, or supplied by ENTERPRISE.
Tablet Global Summary Study Results
Social boundaries are being redrawn and polite society is changing yet again. This quarter's Mobile Workforce Report reveals where the lines are being drawn between life and work - separating personal from business time.
Highlights of this quarter's study include:
41 percent of mobile workers have a tablet and an additional 34 percent of mobile workers intend to purchase a tablet in the next six months.
87 percent of mobile workers that own tablets use their tablets for at least some work. Among tablet owners, 27 percent have a tablet provided by their workplace and 73 percent have a personally owned tablet.
The average mobile worker works 240 hours a year longer than the workforce in general.
On the road, 68 percent of mobile workers will pay for a faster connection at a hotel even when a free network is also available.
43 percent of mobile workers store their SmartPhone within arm's reach when they sleep at night. Those that do this are 60 percent more likely than average to wake during the night to check their smart phone.
Those living in Asia Pacific are the least rested with 55 percent of mobile workers waking at least occasionally to check their smart phone. or tablet, and 19 percent wake every night. Europeans are the most rested with only 27 percent waking at least occasionally, and 4 percent waking every night.
29 percent of mobile workers find that their mobile technology usage causes friction in their personal relationships, specifically with their significant other or spouse.
When mobile workers wake up in the morning, 35 percent check email before anything else, including getting dressed or eating breakfast.
Among mobile employees, the top-five business applications for the smart phone. or tablet beyond email are:

Note taking applications (47 percent)
Contract or contact management (39 percent)
Office suites (33 percent)
Social media for work (30 percent)
Web conferencing (25 percent)

94 percent of mobile workers have a smart phone. today.
Read on Order Mobile Device Policy Download Selected Pages
CIO Infrastructure Policy Bundle
The policies have just been updated to comply with all mandated requirements and include electronic forms that can be Emailed, filled out completely on the computer, routed and stored electronically -- a total solution.
We have just completed a major update of all the individual polices and all of the electronic forms.
CIO IT Infrastructure Policy Bundle (All of the policies below are included as individual MS Word files and a single PDF file. Electronic forms are all individual documents that are easily modifiable)
Order Infrastructure Policies Download Sample