CIO Tenure impacts IT Staff Tenure
As CIOs move into new enterprises staff turnover occurs and average tenure of IT Pros is impacted
CIO Tenure impacts IT Staff Tenure - In the process of reviewing our preliminary data for the next salary survey, we have looked at employee tenure and IT Pros in particular. CIO tenure currently is at 4 years and 5 month. That is up from 4 years and 4 months last year.
---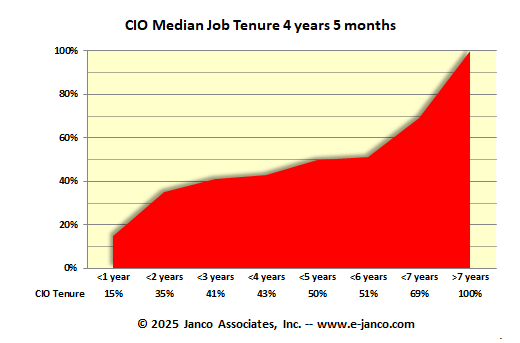 Updated with the latest CIO tenure data.
Read on latest IT Salary Survey...
---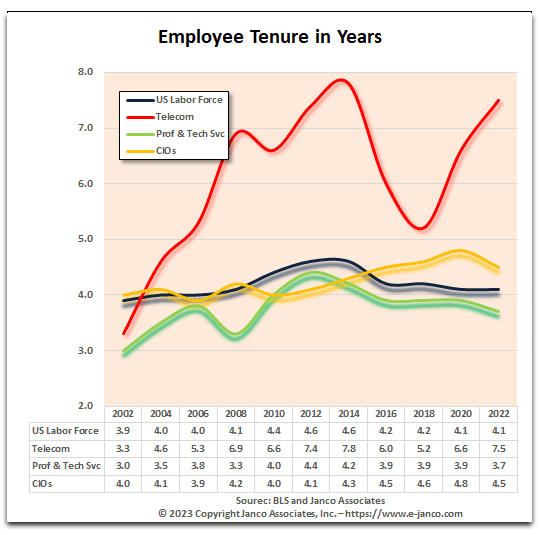 Tenure of IT Pros is starting to fall.  That is not a bad thing because two things are happening.  First, as new employees are hired average tenure falls.  Second, with more job opportunities many IT pros are looking at this as a good time to find new opportunities.  We feel this trend will continue.
One of the more interesting observations is that when tenure of CIOs falls (new CIOs are hired) and then rises, overall tenure of Professionals and Technical Servicer (IT Pros) falls.  That means that when a new CIO arrives a few things occur. Some of the IT Pros in the enterprise leave -- either for other job opportunities or to follow the prior CIO to their new enterprise.  Many CIOs have loyal staff who will follow them over the course of multiple organizations.
From our analysis of the data, it is clear to see that the "telecommunication" work force tends to stay put.  Much of this is due to the fact that there are not many new job opportunities available.  In addition, we are seeing that as a number of baby boomers are retiring, many enterprises are not filling these positions. 
Read on Salary Survey Order Salary Survey Download Summary