H-1B Visa Holders Paid Less than US Workers
Based on Apple Computers filings they pay many H-1B Visa Holders less than the going market rate
H-1B visa holders are paid less than the median salaries for the San Francisco Bay area for comparable job titles.
In a filing with Apple's H-1B application, of the 4,825 visa applications for the current year: 4,807 (99.6%) had an average salary that was significantly lower than the San Francisco Bay area average.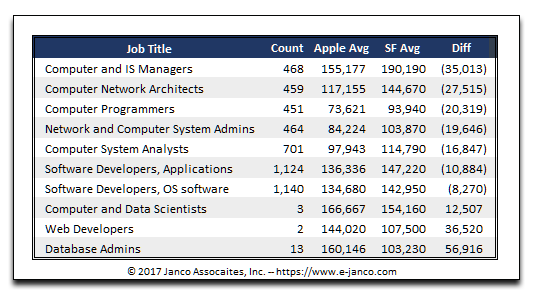 Surprisingly, the there is at least a $20,000 (in some cases ($35,000) lower average salary for 1,378 (28.5%) of the total number of visa filed by Apple.
In recent article in ComputerWorld Apple it was stated:
"Apple didn't want to comment for the story, but it did confirm some things. It says it hires on the basis on qualifications and that all employees -- visa holders and U.S. workers alike -- are paid equitably and it conducts internal studies to back this up. There are bonuses on top of base pay.

Apple may not be paying low wages to H-1B workers, but it can pay low wages to visa workers if it wanted."
When you compare this to the actual median compensation for H-1B visa holders, the heart of the dispute is seen.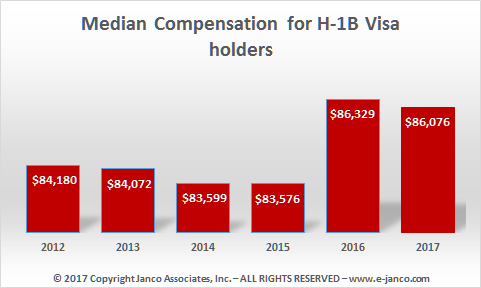 We will address this issue in our next IT Salary Survey.
Read on Salary Survey Order Salary Survey Download Summary
---

NOTE: the table below is updated automatically with the latest IT salaries when a new salary survey is published. That happens every January and June. The historical data is available.
---
Latest Median IT Salaries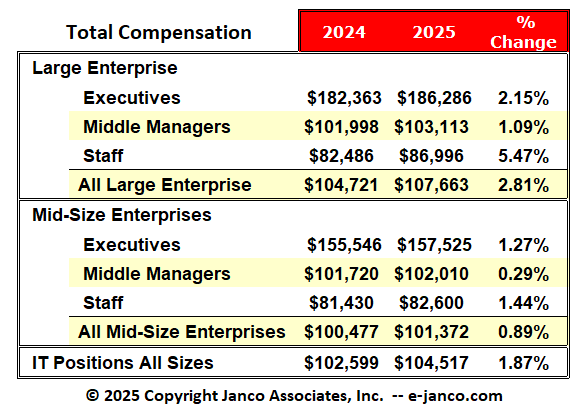 For the latest data go to the current IT Salary Survey
---
As demand increases and the supply of available qualified IT professionals decreases this will become much less of a problem for H-1B individuals. More impactful will be the status of the H-1B program and how that ties into any fix of the immigration system.
As the economy continues to improve, pressure will be placed on the government to both extend the program and increase the number of visa's which can be issued.