Median CIO Tenure increases by one month to 4 years and 8 months
Tenure increased as most CIO positions that were lost were in SMBs had shorter tenure
Covid shutdowns impacts CIO Tenure - In the process of reviewing our preliminary data for our salary survey, we have updated our data on CIO tenure. CIO tenure currently is at 4 years and 8 months. That is up from 4 years and 6 months last year -- befor the pandemic.
From our preliminary analysis, as the number of company closures occurred more SMBs were impacted. The CIOs in those organization had less tenure than in larger enterprises. This is what drove the median tenure up for the CIO position.
New Generation of CIOs in the horizon
A "new generation" of IT Pros taking over.  Many if not most of the Baby Boomers are retiring or already have done so.  The net impact is that the "median" age of CIOs, in the near term, will be falling the next few years. 
Based on BLS data, Gen Y and Z make up over 47% of the total labor force, Gen Xers are 37%, and Baby Boomers have shrunk to only 16% of the total labor force.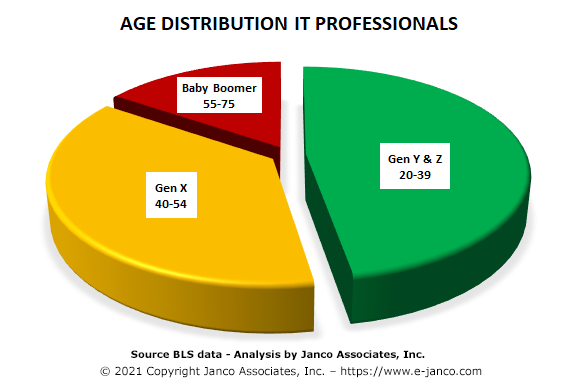 As younger individuals become CIOs, many will tend to hire direct reports that are in their age groups. There still will be IT specialist that have legacy skills who will remain in the workforce for some time.  However, management positions for them will be limited at best.  Blockchain, DPT, and applications on the Internet will be manned by IT pros who are in the 30 to 40 year old age groups.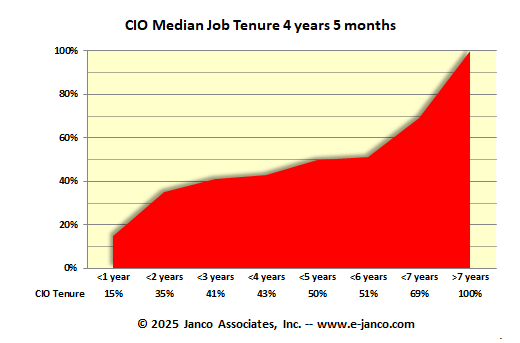 Updated with the latest data
The primary driver was that 19% of all CIOs had a tenure of 12 months or less. At the same time last year, the same 12 months or less group was 15%. In addition, 28% of all CIOs have held their positions for 24 months or less versus 40% in January 2019.
We have found that between the 24 months and 36 month tenure period a number of CIO leave because the opportunity they were looking for was not there. Also, a number of the CIOs did not meet the expectations of the C-Level management team.
Over the next 12 months we believe that average tenure for CIOs will fall again as more senior CIOs retire and others are replaced by CIO who can drive the new technologies of Blockchain and DLP. In addition the median age of all IT pros will go down