BLS Forecasts IT Job Market will grow faster than the rest of the US Job Market between 2019 and 2029
Forecast for US job market 2019 and 2029 is 3.7% versus 11.5% for IT Pros
As the digital economy expands due to more consumers and businesses participate the IT job market will grow. There will be more demand for IT pros who can facilitate connecting devices to the internet and storing more sensitive data online. The employment of information security analysts, software developers, and computer and information research scientists is expected to grow at a robust pace over the next decade from 2019 to 2029.
Forecast - Ten Year Growth of Jobs for IT Pros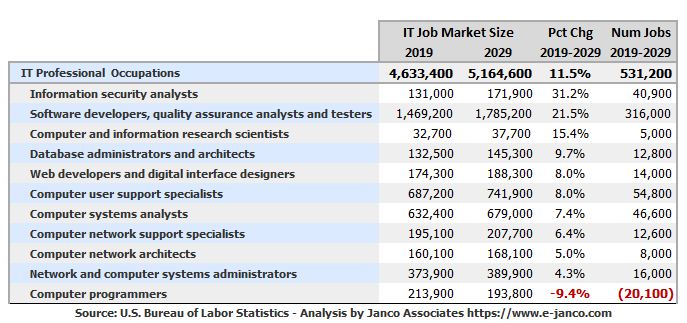 Computer occupations as a group are projected to grow about 3 times as fast (11.5% - 531,200 jobs) as the rest of the job market between 2019 and 2029. Three computer occupations (Information Security Analyst 32.2%, Sofware Developers, Quality Assurance Analysts 21.5%, and Testers 15.4%) all poised to grow at rates above 15.0 percent over the next 10 years.
The latest BLS forecast is for a loss of over 20,100 jobs (-9.4%) for computer programmers.  Janco agrees that due to AI and automation of the programming function pressure will result in less demand for computer programmers.  However, the firm does not necessarily agree there will be a loss in the total number of computer programming jobs
Order IT Job Description HandiGuide Download Table of Contents
Historic IT Job Market Size - Over 4.19 Million Employed as IT Pros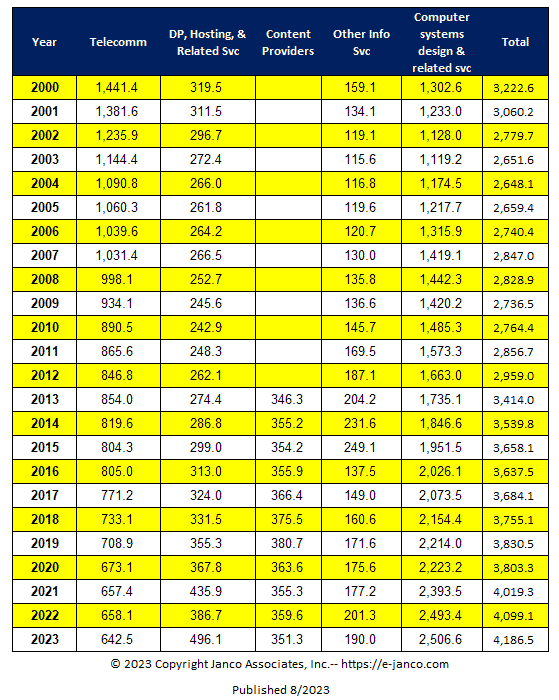 This is not the original data that was published.
It has been updated with data complied by Janco Associates with data as of September 2023.