IT Infrastructure update is a must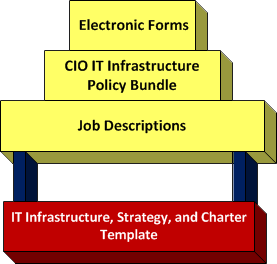 IT Infrastructure has been ignored for too long
IT Infrastructure update is a must - The US election and Brexit alter the landscape for CIOs and the technology Infrastructure for many  enterprises. Compliance issues will be altered by the seismic changes caused by these two major events.

Janco is in the process of updating all of the processes and procedures that are impacted by these events. The first two areas addressed are its Social Networking Policy and a new Safety Program added to its CIO IT Infrastructure Policy Bundle.  

All of the forms in the Safety Program have been updated to be electronic PDF fillable forms and an eReader (ePub) version of the Safety Program now is included with the base product. 

It contains over 100 IT best practices and meets all compliance requirements. This was a major update of the entire suite of Janco's infrastructure products. Some of the new additions are:

Top 10 Technology International Tips
How to create a WYOD (Wear Your Own Device) strategy
Best Practices for Text Messaging Sensitive Information
Legal considerations of Google Glass and other Wearable Devices
Federal Computer Security Incident Handling Requirements
Best Practices to Meet Compliance Requirements
Mobile Device Security and Compliance Checklist
Top 10 Cloud and Outsourcing SLA Best Practices
ISO Compliance Requirements
Legal definitions for records management compliance
Generic Service Level Agreement Template
Tips on how to avoid being scammed on social networks
Telecommuting risks faced by the business
In addition to the policies and electronic forms you have the option to acquire our industry leading IT Infrastructure, Strategy Template plus all 324 IT Job descriptions. These also come with Janco's one or two update service for all of the components. 
Read on Order Infrastructure Policies Download Sample