Flat Salaries for IT Workers
Technology workers should not expect large raises in 2012 even if the employment picture brightens, according to the most recent annual salary survey from Janco Associates. "For information technology, the recession has bottomed out and the hiring of IT professionals will increase in 2012," says Victor Janulaitis, CEO at Janco. "However there still are a number of companies that will continue to be cautious, concerned that the recovery will not be strong enough to support increased IT spending.
Cost control is still the rule of the day. " One encouraging sign: A surge in part-timers and contractors hired for mission-critical projects, which points to an eventual increase in overall salaries. Also, personal performance bonuses and bonuses for work that benefits the enterprise are trending upwards. Tech pros representing more than 1,100 companies took part in the research.
Minimal Salary Growth for Median Salaries - $78,229 will be the median salary for all IT professionals this year, up less than 1% over 2011
Flat Salary Growth at Large Companies - $66,342 will be the median salary for typical IT staffers at large enterprises, flat compared to last year
Mid-Sized Employers Pay More - $62,264 will be the median salary for typical IT staffers at mid-sized enterprises, up nearly 2% from 2011
Managers Treading Water - $79,863: median salary for mid-level IT managers at large enterprises, up less than 1% over last year and $73,090: median salary for IT managers at mid-sized enterprises, up less than 1% over last year
Top IT Executives in the Doldrums - $140,879 is what executive-level managers will make at large enterprises, roughly flat with 2011 levels
CIOs and other IT Executives With Small Raises - $124,363 is what executive-level managers will make year at mid-sized enterprises, up nearly 1% over last year
Better Benefits - 92% of companies will offer IT workers health benefits in 2012, up 6% over last year
Bonus Bump - 53% of companies will offer personal performance bonuses this year, up 5% over 2011; 40% will offer enterprise performance bonuses, up 4%.
Stock Options are Out- Just 14% of organizations will offer stock options this year, down 4% from 2011
Less Flexibility - 54% of organizations will offer IT workers flex hours, down 2% from 2011
IT Job Market Employment Trends
---

IT Hiring Slows


The latest data for more read on...
Data points to a slowing in the hiring of IT Professionals with 21,500 jobs added in the last 3 months. That is just reoveriing from the "big tech" layoffs in the latst quarter of 2022
Note - data includes the adjustments by the BLS to the initially reported data.

---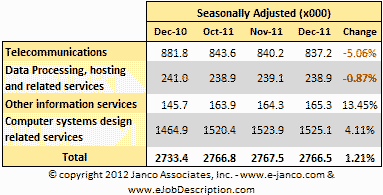 ---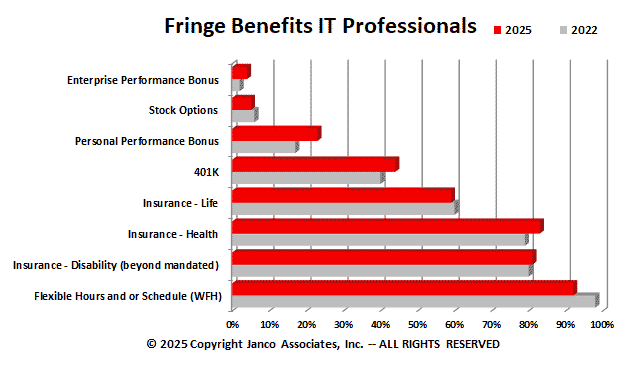 The latest fringe benefit analysis for IT professionals is updated during the creation of Janco's IT Salary Survey
---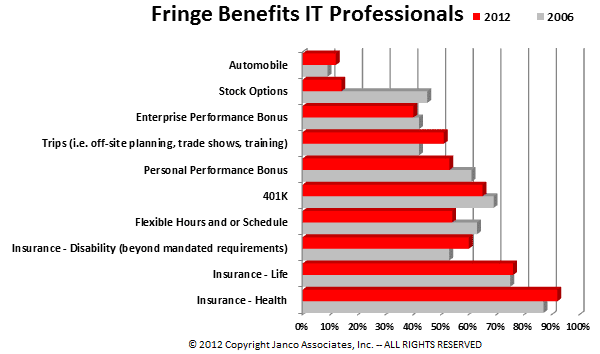 Versions of the Salary Survey


Order Salary Survey Download Sample Provide Data