News Index
Back
Next
Hurricane Hits East Coast
Question - Can you recover and continue operations with no power or network
According to an AT&T Survey of 100 Chicago firms (revenues <$10M), 81 have DR plans, but only 43% have fully tested their plans within the last 12 months and 12% admitted they have never tested their business continuity plans.When Hurricane Earl, now a major hurricane, hits the East Coast of the U.S. later this week many enterprises will find that their Business continuity plans were not adequately tested.

Critical data centers, with backup generators, facilities and fuel supplies, are now built to continue operating during storms. The same can't be said for the computing setups that telecommuters maintain in their homes, and they may be put to the test this year.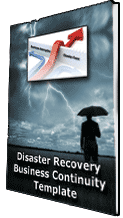 Last year there were only three hurricanes in U.S. waters last year, and none of them brought hurricane force winds over land in this country. In 2009, there were an average of 236 power outages a month in the U.S. Through July of 2010, the average had increased to 273 a month.

The need for teleworkers to be self-sufficient (and less dependent on coffee shops and local libraries for wireless access) is growing. In a report released last month, the Metropolitan Washington Council of Governments estimated that there as may be as many as 600,000 workers, or about 25% of the region's workforce, who telework at least one day a week. The council also discovered, via a telephone survey of more than 6,000 area workers, that the number of teleworkers could rise by 500,000 over the next few years.

When blizzards early this year prompted a multiday shutdown of federal offices, many federal employees rose to the challenge and continued to work, making good use of telework and other work flexibilities. The question is will Hurricane Earl be as easy on existing Disaster Recovery and Business Continuity Plans.
Use this paragraph to dig a bit deeper. Tell your audience what you want them to know about your company/product/service.