Disaster Plan for Man Made Events
Explosion, Terrorist Attack, or Random Act of Violence


Order DRP BCP Template Sample DRP BCP Template
What to Do After an Explosion, Terrorist Attack, or a Random Act of Violence

After an explosion, terrorist attack, or other random act of violence there can be a second event that cause as much damage as the first so care should be taken and the following steps should be taken:

Be aware of your surrounding and find your safest escape route.
Personal safety of yourself and those around you should be the first concern.
Since one event can be followed by another, stay alert. There may be more danger yet to come.
For protection, consider crawling under a table or desk and remain there for at least 60 seconds.
Stay away from windows, mirrors, overhead fixtures, filing cabinets, bookcases, and electrical equipment.
If an evacuation is ordered, go to a designated place. Make sure all staff and others in your facility are accounted for. Do not forget handicapped people who may need your help in exiting. Do not move seriously injured persons unless they are in obvious, immediate danger (building collapse, fire, etc. ). Avoid known problem areas (where there are gas lines, fire hazards, etc. ). Once out, keep as far away from the building as possible.
Open doors carefully. ; Watch for falling objects.
Do not use elevators.
Do not use matches or lighters. Sparks might trigger explosions.
Avoid using telephones and hand radios. Electrical sparks or signals could trigger other bombs.

The Disaster Recovery Plan (DRP) can be used as a Disaster Planning template for any size of enterprise. The Disaster Recovery template and supporting material have been updated to be Sarbanes-Oxley and HIPAA compliant. The Disaster Planning Template comes as both a Word document and a static fully indexed PDF document and includes:

Disaster Recovery Plan and Business Continuity Template
Business and IT Impact Analysis Questionnaire
Work Plan
Disaster Recovery / Business Continuity Audit Program

Preparation for Disaster Recovery / Business Continuity in light of SOX has two primary parts. The first is putting systems in place to completely protect all financial and other data required to meet the reporting regulations and to archive the data to meet future requests for clarification of those reports. The second is to clearly and expressly document all these procedures so that in the event of a SOX audit, the auditors clearly see that the DRP exists and will appropriately protect the data.

New are (Version History):

Backup & Backup Retention Policy
Disaster Recovery Audit Program
Compliance with the ISO 27000 Series Standards (formerly ISO 17799 now ISO 27001 & ISO 27002), Sarbanes-Oxley, PCI-DSS, and HIPAA
Web Site Disaster Recovery Planning Form
Project Status Report Form
Personnel Location Report
Department Disaster Recovery Activation Workbook

Quick Reference Guide
Team Alert List (Form)
DRP Team Responsibilities
DRP Team Checklist
Critical Function(s) Definition
Normal Business Hour Response Procedures
After Hours Response Procedures
DRP Location(s) Definition
DRP Recovery Procedures
Notification Procedures
Notification Call List (Form)

Updated Business and IT Impact Analysis Questionnaire
Vendor Disaster Recovery Questionnaire
Vendor Phone List Form Updated
Key Customer Notification Form<
Critical Resources to be Retrieved Form
Business Continuity Off-Site Materials Form
Business Continuity Audit Program

The premium edition contains following full job descriptions:

Chief Information Officer
Chief Compliance Officer
Chief Digital Officer
Chief Experience Officer
Chief Mobility Officer
Chief Security Officer
VP Strategy and Architecture
Digital Brand Manager
Director Disaster Recovery and Business Continuity
Director e-Commerce
Director Media Communications

Manager Database
Manager Disaster Recovery and Business Continuity
Manager Disaster Recovery
Manager Media Library Support
Manager Record Administration
Manager Site Management
Manager Social Networking
Capacity Planning Supervisor
Disaster Recovery Coordinator
Disaster Recovery - Special Projects
Pandemic Coordinator
Order DRP BCP Template DRP BCP Sample
The DRP template is over 200 pages and includes everything needed to customize the Disaster Recovery Plan to fit your specific requirement. The electronic document includes proven written text and examples for the following major sections of a disaster recovery plan:
Plan Introduction
Business Impact Analysis - including a sample impact matrix
DRP Organization Responsibilities pre and post disaster - drp checklist
Backup Strategy for Data Centers, Departmental File Servers, Wireless Network servers, Data at Outsourced Sites, Desktops (In office and "at home"), Laptops and PDA's
Recovery Strategy including approach, escalation plan process and decision points
Disaster Recovery Procedures in a check list format
Plan Administration Process
Technical Appendix including definition of necessary phone numbers and contact points
Job Description for Disaster Recovery Manager (3 pages long) - entire disaster recovery team job descriptions are available
Work Plan to modify and implement the template. Included is a list of deliverables for each task. (Risk Assessment and Vulnerability Assessment)
There is a extensive section that show how a full test of the DRP can be conducted. It includes
Disaster Recovery Manager Responsibilities
Distribution of the Disaster Recovery Plan
Maintenance of the Business Impact Analysis
Training of the Disaster Recovery Team
Testing of the Disaster Recovery Plan
Evaluation of the Disaster Recovery Plan Tests
Maintenance of the Disaster Recovery Plan
Click on the link below to get the DRP/BC sample pages now and make it part of your disaster recovery toolkit.
Order DRP BCP Template DRP BCP Sample
Backup Matrix - Sample from Template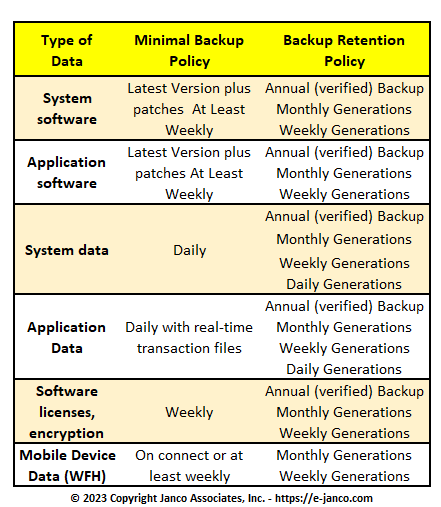 Order DRP BCP Template DRP BCP Sample