Why Recovery Plans Fail Survey Results
Technology Resilience Depends on Business Continuity Plan
Why Recovery Plans Fail Survey Results - With the level of uncertainty in our world regarding events that can disrupt the operation of an enterprise Janco has learned that we need to expect the unexpected. And while terrorist attacks and major weather events are the most egregious example of a disaster, CIOs should be prepared for disruptions to the business on all fronts and all levels of severity. While it can be argued that Business Continuity Planning is an expensive and tedious endeavor, it is clear that a well thought out plan that helps assure business continuity in the event of a serious disruption to the operation of the business, may well mean the difference between business success and business failure.
Many disaster recovery (DR) plans end up being a documentation exercise and never rise above the day-to-day priorities of the business. Those who make it to the DR testing phases often encounter problems that if not properly addressed leave a bad mark on the whole DR process. In a survey of 253 enterprises that had to activate their recovery plans, Janco has identified the reasons why recovery is not successful.
Most businesses never suffer a catastrophic data loss. For those that do, whether caused by hardware failure, natural disaster, fire/flood, employee malice it can be devastating. More than 50% of businesses suffering a catastrophic loss of data never recover.
Over a six month period Janco Associates interviewed managers and executives in enterprises of all sizes that had experienced a business interruption and had to take some sort of action to continue their operations. Only 52 (28.7%) .of the 181 Interviewees were able to recover with no major problems. 123 of the others faced some issue with their recovery efforts.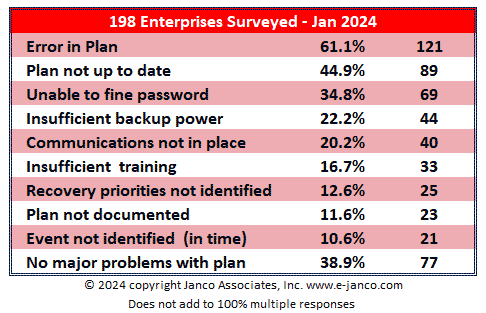 Order DRP BCP Template DRP BCP Sample
The most common issue and occurring in 62% of all recovery plans are errors in the plan itself. This is often due to the plan not being kept up to date (47%) and the unavailability or inaccurate passwords (34%).
Additional reasons for failures are:
Insufficient backup power - 22%
Communications not in place - 18%
Personnel not trained - 17%
System priorities not identified - 14%
Recovery not documented - 13%
Event not identified - 12%
The Disaster Recovery / Business Continuity and Security Manual Template bundle comes in three versions - Standard, Premium, and Gold.
Recovery plan chosen by over 3,000 enterprises worldwide
The DRP template is over 200 pages and includes everything needed to customize the Disaster Recovery Plan to fit your specific requirement. The electronic document includes proven written text and examples for the following major sections of a disaster recovery plan:
Plan Introduction
Business Impact Analysis - including a sample impact matrix
DRP Organization Responsibilities pre and post disaster - drp checklist
Backup Strategy for Data Centers, Departmental File Servers, Wireless Network servers, Data at Outsourced Sites, Desktops (In office and "at home"), Laptops and PDA's
Recovery Strategy including approach, escalation plan process and decision points
Disaster Recovery Procedures in a check list format
Plan Administration Process
Technical Appendix including definition of necessary phone numbers and contact points
Job Description for Disaster Recovery Manager (3 pages long) - entire disaster recovery team job descriptions are available
Work Plan to modify and implement the template. Included is a list of deliverables for each task. (Risk Assessment and Vulnerability Assessment)
There is a extensive section that show how a full test of the DRP can be conducted. It includes
Disaster Recovery Manager Responsibilities
Distribution of the Disaster Recovery Plan
Maintenance of the Business Impact Analysis
Training of the Disaster Recovery Team
Testing of the Disaster Recovery Plan
Evaluation of the Disaster Recovery Plan Tests
Maintenance of the Disaster Recovery Plan
Click on the link below to get the DRP/BC sample pages now and make it part of your disaster recovery toolkit.
Order DRP BCP Template DRP BCP Sample