2014 IT Lay Offs Exceed 2013
---
Big players like Microsoft, HP, Dell and other lay off over 65,800 in 2014

2014 IT Lay Offs Exceed 2013 - As the economy improves in other sectors, large IT hardware, software and network firms lay off over 65,800 in 2014. That is far in excess of the lay offs that occurred in 2013.
Taken along with the anemic grow of the IT Job Market, it does not look very good for IT professionals. Granted that a number of those laid off (SAP in Germany) will occur outside of the US job market it will have an impact on IT hiring and spending.
What does this all mean? Will a recovery actually take place or will we continue to see an IT Job Market that just does not have to ability to expand?
On the plus side startup companies continue to hire and expand. They typically are in fields of new technological development and expansion and this just may be a sign that the IT industry is maturing with a typical life cycle. Old companies expand to the point there is no more room for growth so they either have to adapt and expand or remain as is and contract.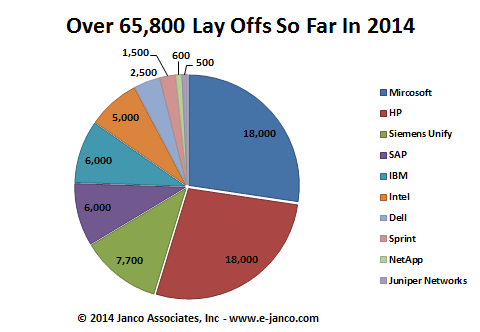 Updated with the latest IT Job Market statistics
Historic IT Job Market Growth Stops in CY 2023


For current analysis of this data, go IT Job Market Size to see the historic job market growth trend data
Data as of the end of October 2023