Information Technology Highly Paid Profession
Computer and IT Managers paid more that many top executives
Computer / IT executives and managers are among the most highly paid individuals in US corporations. The BLS has just released its Occupational Employment and Wages Summary for last year. We have compared that data with Janco's IT Salary Data and found the BLS confirmed the accuracy of Janco's salary survey. If anything, Janco's results are more conservative as its data is more granular.
---

NOTE: the table below is updated automatically with the latest IT salaries when a new salary survey is published. That happens every January and June. The historical data is available.
---
Latest Median IT Salaries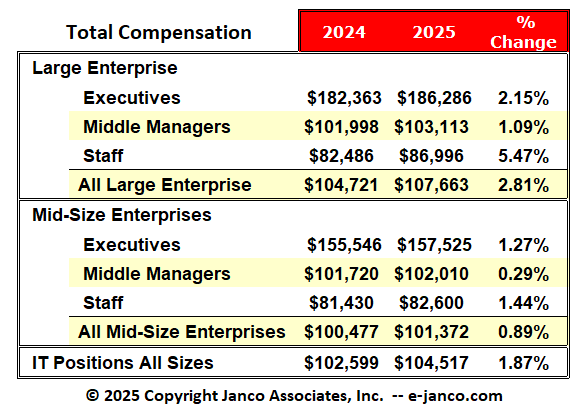 For the latest data go to the current IT Salary Survey
---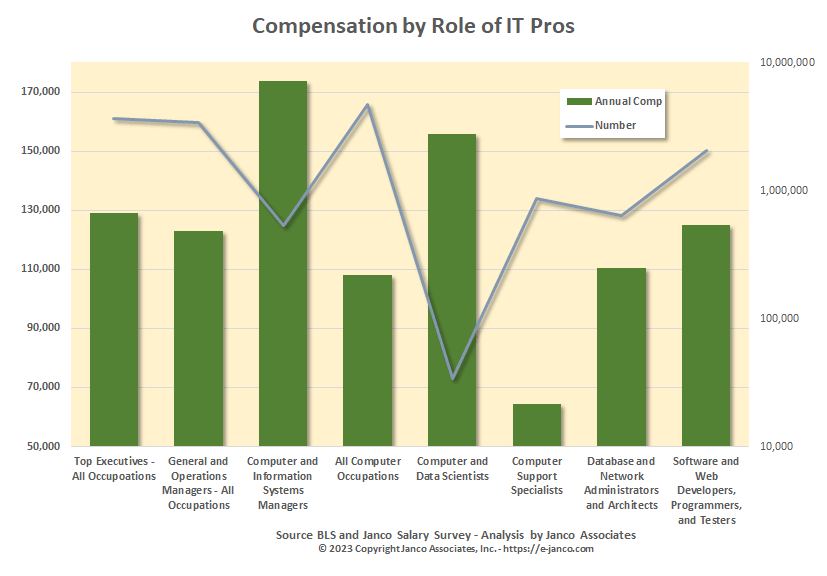 Compensation for IT Pros is driven by a number of factors. They include the role IT Pro fills, the level of technical skill and experience level of the individual, and the demand for the skill in the market the individual is in.
Our analysis has the following major findings:
Computer and IT Managers are among the most highly paid positions ($173,670) across all industries and occupations, even more than the Top Executives across all industries and occupations($129,050).
The lowest-paying computer occupations were computer user support specialists (Help Desks and Customer Service Representatives) ($61,580) and computer network support specialists ($76,060).

Computer user support specialists were the only computer occupation that did not have an above-average wage. Interestingly, many companies have chosen to off-shore these functions which had reduced costs in a minor way while adversely impacting the service levels they provide their internal staff and customers.

More than one-quarter of computer jobs (1.3 million) were in the computer systems design and related services industry. Industries with the largest employment of computer occupations also included management of companies and enterprises (331,220); software publishers (286,760); and employment services (190,030), which includes temporary help services.

Moves to outsource these skills have resulted in higher costs over longer lead times to complete tasks. Again this is adversely impacting the service levels provided by the IT function.

The metropolitan areas with the highest concentrations of computer occupations were San Jose-Sunnyvale-Santa Clara, CA (13.7 percent of area employment), and California- Lexington Park, MD (10.3 percent).

It is not clear that this is a trend that will continue over the long haul as more high-tech firms leave these high-cost areas.

The highest-paying states for computer occupations were California ($143,670) and Washington ($129,870). The lowest-paying states for this group included Mississippi ($75,840) and North Dakota ($76,900).

The cost of living is a key driver in compensation levels as many IT Pros look to maximize the net compensation they make.
There still are over 100K job openings for IT Professionals that remain unfilled due to there being too few individuals who have the necessary skills and experience to fill those positions. We continue to forecast there will be 60K to 70K new IT jobs created in the current calendar year. That will be slower than the prior two years but will still be positive.
---
IT Job Market Forecast - August 2023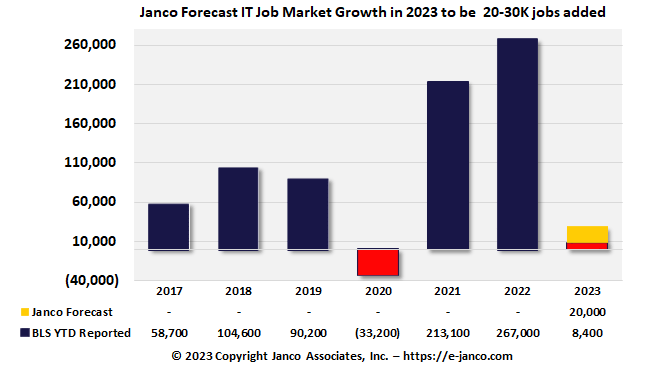 There has been a major shift in the creation of new IT Jobs - economic slowing is the driver. We estimate that an number of new IT jobs that will be created in 2023 will now be between 20K-30K.
---
Read on Salary Survey Order Salary Survey Download Summary