Ten Best Practices to Hire and Retain World Class Creative IT Professionals
---
CIO and IT managers need to have the best creative talent to address the technologies which executive management expects from IT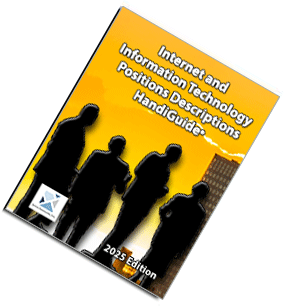 Staffing is one of the most critical factors in the success of an IT organization and the CIO in particular. Without an excellent staff to support the initiatives that a CIO need to meet the overall objectives of the organization the CIO and the IT function will fail.
With this in mind Janco Associates has found the top ten best practices that CIOs need to implement if they want to hire and retain World Class Creative IT professionals.
Focus on the identification, nurturing and growing of highly talented people - This task is one that is the foundation for all of the other best practices.
Actively manage collaboration among the talent pool - World Class IT Professionals perform at peak levels when they have others that challenge them and move them to achieve optimal performance.
Have clearly defined job requirements - Functional and accurate Job descriptions are necessary first step. To that end the Internet and IT Job Descriptions HandiGuide is a must have document.
Recruit from the places that turn out the top talent. Good training grounds will produce multiple good resources.
Avoid the trap of hiring the best available resource today if they do not meet all of your requirements. Often you are pressured to fill a position, but when none of the candidates meet the total requirement it often is best to continue the recruiting process until the right candidate is found.
Have core metrics in place to measure performance. Top measure is to modify behavior. If the IT talent knows that they are being measured and compensated accordingly they will perform better.
Cull your mistakes quickly. Hiring mistakes are made all the time. Do not be afraid to say you made a mistake and find a new candidate.
If you allow your most talented people free rein to innovate, don't stigmatize failure. When people experiment they will make mistakes, you have to allow this to happen and communicate that if talent does not fail on occasion they are not trying their hardest.
Have staff work on only on "core activities" related to the requirements of the job - eliminate activities that do not have an impact on performance. People hate bureaucracy as an unproductive task do not burden creative talent with too much overhead.
Get support staff to do the non-core activities.
Order IT Hiring Kit Download IT Hiring Kit TOC