Mobile Device Security Puts Companies at Risk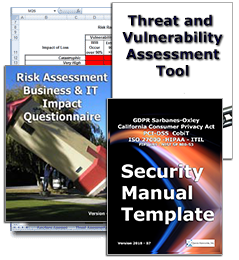 Janco Associates has issued a warning that mobile Internet users are facing a rapidly escalating threat from hackers and spy-ware. As the computing capacity and the popularity of small mobile devices and gadgets has increased, so has the risk of attack from other mobile devices and computers, creating a growing threat of mobile users losing their privacy or confidential business data.
In interviews with the several CIOs, Janco found that CIOs were concerned about how they can adequately manage the risks introduced by mobile devices. In addition, they feel that security is the greatest obstacles to rolling out more smart devices.
For example, there is no anti-virus protection for mobile devices. In the case of the iPhone there is not even a spam filter it is all dependent on the email provider. Add to that that it is estimated that the number of new smart phones and tablet PCs would outpace desktop computers and notebooks. Users and business should have security applications in place, such as encryption, in order to protect their mobile devices from data threats and illegal access.
Security Manual Template Updated to cover Mobile Device Access and Use
Janco has just updated its Security Manual Template to address issues faced by enterprises by defining acceptable access and use policies that can be implemented quickly . It addresses issues such as how to manage in today's threat driven environment.
Read on Order Security Manual Template Download sample
---
Social Networking and Mobile Device Policies Help CIOs to Manage Risk

CIO Infrastructure Policy Bundle Includes 12 Key Policies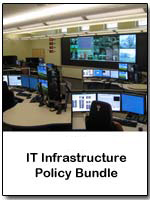 Janco has assembled the policies that it has developed over time with some of the best IT organizations around the globe into a single package. With this bundle you get a PDF file that has all of the procedures in a single document that is over 280 pages long. In addition you get a separate MS-Word document for each procedure which can easily be modified.
It would take your staff months to develop these procedures from scratch. This bundle contains the following policies:
The policies have just been updated to comply with all mandated requirements and include electronic forms that can be Emailed, filled out completely on the computer, routed and stored electronically -- a total solution.
We have just completed a major update of all the individual polices and all of the electronic forms.
CIO IT Infrastructure Policy Bundle (All of the policies below are included as individual MS Word files and a single PDF file. Electronic forms are all individual documents that are easily modifiable)
Read on Order Infrastructure Policies Download Sample
---
Productivity and IT Infrastructure Tools
Janco with its clients has created a set of Infrastructure tools that every CIO and IT organization needs. With all of the increased security threats and newly mandated requirements why create from these policies and tools from scratch. Janco has just updated all of these tools to reflect the latest mandated requirements and technological implications.
---
DRP / BCP Template


Industry standard for Disaster Recovery and Business Continuity. Over 3,000 enterprises world-wide have chosen this tool.

Security Template


The IT Security Manual Template provides all the essential sections of a complete security manual and walks you through the creation of each step.

IT Job Descriptions


Job descriptions have been created and just updated for every position from CIO to to Computer Operator
Cloud Management


Cloud Template provides EVERYTHING that is needed to select an outsourcer, enter into an agreement, and manage the relationship

IT Infrastructure


Defining Your Optimal IT Infrastructure is a critical task that can no longer wait with all of the mandated changes and service requirements..

Salary Survey


The industry standard for IT compensation answers question like - Are you paying too much or too little to your IT staff? Are you earning what you're worth?
---
Janco's tools are your solution to improved productivity

Why re-invent the wheel when these tools provide you with the industry standard best practices in a way that can make your standout as a manager and leader who can get things done is quickly and cost effectively.