Industry Statistics published in DM Direct Special Report
Industry Statistics published in DM Direct Special Report - The Janco Mid-Year IT Salary Survey has just been released. Here are a few highlights:
---

(note - Charts have been updated with the latest data. If you want to see the original charts please contact support at e-janco.com. Text is the original text. Specify which charts and dates you desire and they are available for free to paid subscribers of the CIO - IT Manager Newsletter)

---
IT Job Market Continues to Grow but Slows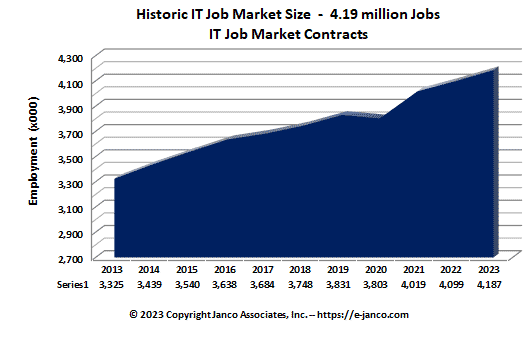 Updated with the latest data as of August 2023
The mean compensation (which includes bonuses) for executive IT positions surveyed now is $140,760 in large enterprises and $124,472 in mid-sized enterprises. (Large enterprises have over $500 million in revenue and mid-sized have between $100 to $499 million in revenue)
The mean compensation for chief information officers (CIOs) in all enterprises flat for the first 6 months of 2005.
The greatest increase in compensation occurred in mid-sized enterprises in "production operations" positions of VP technical services, production services supervisors, forms and graphics designers, project mangers, data security administration and network services supervisors.
The mean total compensation for all positions surveyed has remained relatively the same (0.45 percent) for the last six months. In mid-sized enterprises the mean total compensation has moved up to $74,636 from $69,579 in the last quarter of 2004. At the same time in large enterprises the median compensation has also move up slightly from $79,633 in January 2005 to $79,862 (0.29 percent) in June 2005.
Voice/wireless communication and security positions have been upgraded within many enterprises. Where these positions were lower to mid level positions before 2000, in 2003 and beyond these positions are now mid-level to senior-level positions.
Demand is high in the Internet and network areas of e-commerce, voice/wireless communication, object programming, data security and data warehousing as enterprisers try to prepare for the next wave of the new wireless technology.
Individuals who had planned on retiring in 2003 and 2004 and have not recovered from their retirement portfolio's shrinkage are continuing to defer retirement. In interviews, Janco found a significant number of these individuals have focused on staying employed versus looking for increases in compensation.
Order Salary Survey Download Sample Provide Data