Too Few IT Pros Available According to Janco
71,400 new IT Jobs created in the first ten months of 2019 - Creation of new IT jobs now is limited by the number of qualified IT Pros available
Park City – UT– e-janco.com – Janco Associates For the first time since the Dot Com bust, there now are more open IT positions than qualified individuals to fill them.  It is taking IT functions longer to find candidates and salaries are moving up as a result. 
The CEO of Janco Associates, Inc., Mr. M. Victor Janulaitis said, "Over 71,400 new IT jobs were created in first ten (10) months of  2019.  That is 7,600 more new jobs YTD than were created in the same period last year.  In addition, it is more jobs than were created in the entire years of 2016 and 2017.  However, the rate of increase in the number of new IT positions is slowing down due to the difficulty in finding qualified candidates." He added, "As a result IT department are raising some starting salaries, and a number of organizations are starting to offer 'referral bonuses' to existing staff who help to fill positions. One additional approach some are look at, is recruiting recent and future University IT concentration graduates and those in IT trade schools certification programs."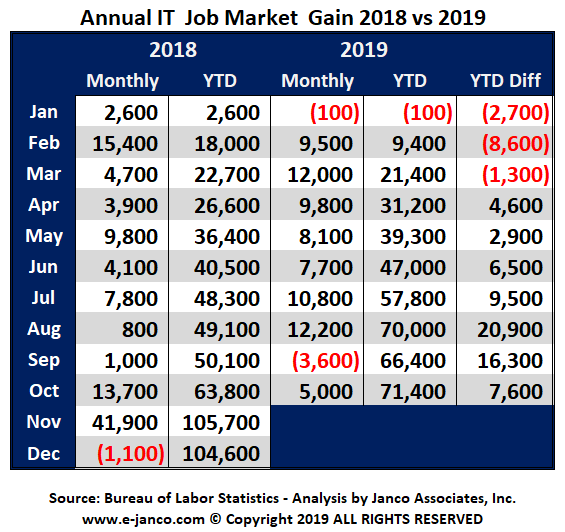 Janulaitis said, "The BLS adjusted 5,700 new jobs out of its initially reported August and September employment data for IT jobs.  Even with that, the number of new IT jobs YTD is still 7,600 above what was reported in 2018.  Forecasting is becoming more difficult with the magnitude of the changes in the basic BLS employment data."  In addition he added, "We are now starting to interview CIOs for our January 2020 IT Salary Survey and are finding that the time to hire new employees now is moving to be closer to 3 to 4 months from the time the position is approved, and the individual is on staff.  In 2018 the time for the same process was closer to 2 to 3 months. As a result, we have reduced our forecast to just over 90K new IT jobs versus our earlier reported 100K forecast."  
IT Job Market Shrinks (updated)
The number of IT jobs not filled now is just over 100K with 106K unemployed IT Professionals. Janco's initial forecast for the IT job market will shrink in CT 2023. Overall that is a flattening of the long term growth rate pattern of IT job market.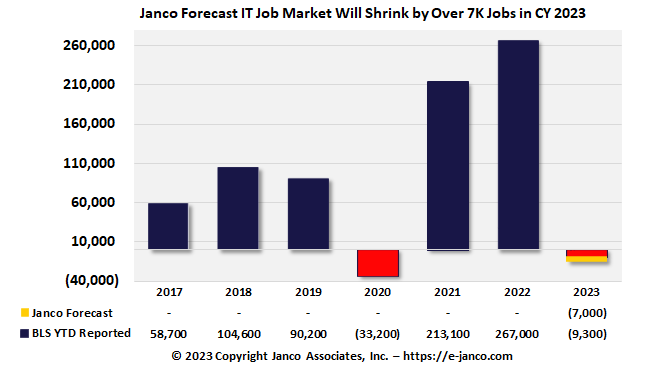 Data complied and forecast updated by Janco Associates with data as of the end of October 2023
The CEO said, "Compliance will be more of an issue in 2020 than this year with the new CCPA mandates that go into effect on January 1, 2020.  One other factor will be the move towards Blockchain and DLT technology.  To that end, Janco released a major update to its Compliance Management Kit and a new Blockchain Job Description Bundle last week. We believe that many of new positions created in 2020 will be driven by both compliance mandates and Blockchain applications."
The CEO said, "With the high demand for IT Pros, the career opportunities outlook for IT professionals continues to be bright.  Over the long term we feel that more individuals will look at IT concentrations at the university level.  Also, professional trade schools will be able to expand the scope of their training and certification programs.  The risk that companies face will be to validate the qualifications of new entrants into the IT job market as IT Pros."
More information on the IT job market
Janco is an international consulting firm that follows issues that concern CIOs and CFOs. The firm publishes a series of IT and business Infrastructure HandiGuides® and Templates including IT Infrastructure Policies and Procedures, Disaster Recovery/Business Continuity Template, Security Template, IT Job Descriptions, and its semi-annual IT Salary Survey.