CaCPA requirements make mobile computing more complex according to Janco
Privacy Compliance Policy added to Mobility Policy Bundle - includes 8 individual policies, 9 electronic forms, and 9 critical job descriptions – Distributed Electronically
Park City – UT– www.e-janco.com – Janco Associates has just updated its Mobility Policy Bundle with its Privacy Compliance Policy to meet critical new requirements placed on organizations by mobile computing and the January 1, 2020CCPA mandates. In addition to the updated procedures, Janco has updated the job description for the Chief Mobility Officer (CMoO)  who is critical in the creation, implementation and operation of an organization's mobility initiative. As an added option, Janco also is distributing a single PDF file, at a reduced cost, which contains all of the policies in the bundle.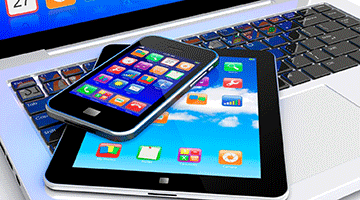 The CEO of Janco, Victor Janulaitis said, "We have added the Privacy Compliance policy to the Mobility Policy Bundle as well as updated all of the policies, electronic forms and job descriptions to meet the latest compliance mandates."  He added, "As the use of personal mobile devices, social networking, and compliance requirements expand, organizations are faced with a dilemma.  How can they balance privacy compliance mandates likeCCPA with business continuity, security, and operational needs in an ever more complex operating environment.  All of this, while supporting increased business demands for more technology by an increasingly technology literate user base. Our policies, electronic forms, and job descriptions addresses those requirements."
In addition to the 9 key compliance and security job descriptions, the bundle includes proven policies (in MS Word and PDF formats) and electronic forms. The policies included are: BYOD; Mobile Device; Privacy Compliance, Record Management Retention and Destruction; Social Networking; Telecommuting; Travel and Off-site Meeting; and Wearable Device Policies. The Electronic Forms are: BYOD Access and Use Agreement Form; Company Asset Employee Control Log; Enterprise Owned Equipment Form; Mobile Device Access and Use Agreement Form; Safety Checklist - Working at Alternative Location; Social Networking Policy Compliance Agreement Form; and Telecommuting Work Agreement. 
Some of the responsibilities defined in the CMoO description are: gaining visibility into the compliance of remote devices; managing network security and sensitive information; defining OS platforms and devices to support; setting mobile policies; managing BYOD; resolving help desk incidents and problems; ensuring compliance and producing audit trails;  supporting connectivity and Wi-Fi access; installing and updating software; approving applications available via the firm's application store; enforcing mobile policies; managing device security; and others.
All of Janco's products are delivered electronically in MS Word and PDF formats. 
Janco is an international consulting firm that follows issues that concern CIOs and CFOs. The firm publishes a series of IT and business Infrastructure HandiGuides® and Templates including IT Infrastructure Policies and Procedures, Disaster Recovery/Business Continuity Template, Security Template, IT Job Descriptions, and its semi-annual IT Salary Survey.