44.1% of long term employees cannot find new jobs or have left the labor market
---
Employees who work for a single organization for three or more years have a more difficult time finding a new job when they are terminated
The U.S. Bureau of Labor Statistics (BLS) reported from January 2009 through December 2011, 6.1  million workers were displaced from jobs they had held for at  least 3 years. The data shows that 26.7 of those individuals remain unemployed and another 17.4% have left the labor pool all together. That adds up tp 44.1 % of these long term employees continuing to be out of work and does not include any factor for those who are underemployed. IT job opportunities for long term unemployed remain poor.
This was less than the  6.9 million for the survey period covering January 2007 to December 2009. In January 2012, 56 percent of workers displaced from 2009-11 were  reemployed.
Janco talked with a dozen IT Professionals who had been employed in IT for over 3 years with the companies and had been terminated.  One of the common refrains was, after being out of the IT job market for several months many of these professionals felt that their skills has decayed and that that employers did not view them in a positive light because of the length of time they had been out of work.  Some of these individuals were able to find "part-time" and "contractor" however they found the job market remains tight for them. Others have left the IT Market all together and had started alternate careers.
Long Term Employees Employment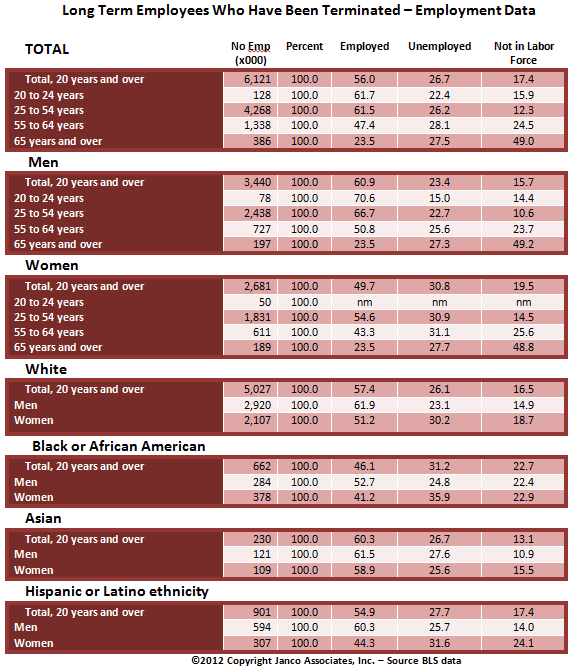 Order Salary Survey Download Sample Provide Data
---

NOTE: the table below is updated automatically with the latest IT salaries when a new salary survey is published. That happens every January and June. The historical data is available.
---
Latest Median IT Salaries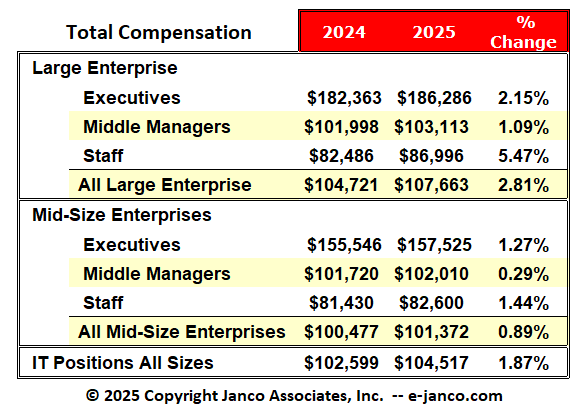 For the latest data go to the current IT Salary Survey
---
IT Job Families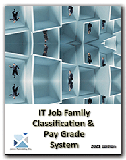 Both in an individual's personal career planning and an enterprise's staffing, promotion and compensation it is important to have benchmarks on the levels that individuals are at.  To that end, one of the best objective ways to meet this goal is to have formal job descriptions and clear paths for promotion and compensation.
A job family classification system is one that defines how individuals can grow into higher level positions over time by providing benchmarks milestones that need to be achieved as they advance over time.  This in time, impacts the compensation that is paid in a fair and objective manner.   A job family is a series of progressively higher, related jobs distinguished by levels of knowledge, skills, and abilities (competencies) and other factors, and providing promotional opportunities over time. With this in place, along with full detail job descriptions, it is easy for both the staff member and the management team to understand what is expected and were the long term options for the staff member are.
The primary driver for the classification system are the position descriptions that are assigned to a particular family and the job level is based on the job family classification and level descriptions. All positions at the same level have the same salary grade throughout an enterprise.
IT Job family classification system has been proven to be a significant time saver and productivity improvement tool for both the Human Resource Department and IT management function.