Chief Digital Officer Job Description Released...
The CDO job description has been added to both the new C-Level Job Descripition Bundle and the full set of IT Job Descriptions...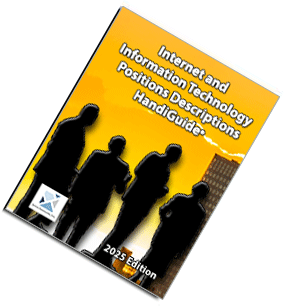 According to a new report by a major firm, entrenched enterprises stand to lose the most if they hesitate to fill this essential position. Companies serious about improving customers' experiences must provide them with consistent and relevant interactions across all touch points, and accomplishing that in a large organization requires a digital champion with the knowledge and power to enforce culture change.
In many B2C companies, digital business means selling products online, while in actuality the digitization of business has spread to encompass product design, customer service, and manufacturing. Digitally empowered consumers expect companies and brands to communicate with and service them in a consistent manner across all their devices, and the number of companies currently exploiting this situation with value-added services is few.
The CDO is primarily a change agent who can deliver the company into the digital age. Whether he rises up internally or is discovered outside the organization, the right person for the job is the one who can do it the fastest. An internal candidate has the advantage of knowing all the networks and secret alleyways of company politics. An outsider can force a fresh perspective on an organization with the CEO's backing.
With that as a base, Janco, in concert with a number of its world class clients, has created the CDO Job Description that addresses all of those requirements and more. In addion Janco has created a new bundle of job descriptions that includes all of the possible C-Level postions that have to do with technology.
Read on Chief Digital Officer...
Order Chief Digital Officer Job Description
Read on C-Level Job Description Bundle...
Order C-Level Job Descriptions
---
Interviewing and Hiring Best Practices
Hiring is a critical aspect of every organization's long-term success. It can be fatal if the right employee is not hired...

Background screening is a critical part of the hiring process for the majority of organizations today, but it is even more essential in the current economy for several reasons. eJobDescription.com has found that a shortage of key skills is the number one challenge facing CIOs and IT functions. This may seem counter-intuitive at first given the news of continued high levels of unemployment and a "jobless" economic recovery. However coupled with many discussions with CIOs and HR professionals in end-user organizations, confirms that finding the right talent - the talent with the right mix of skills, behaviors and values to fit with the organization - is still a challenge. In fact, more applicants in the pool makes filtering and screening even more critical to ensure that time isn't lost on applicants who aren't a good fit or who might not be qualified for the position.
Hiring managers understand that a often an individual's capabilities are not necessarily a good fit. Capability refers to the skills, tools and experience that a person needs to successfully perform a job. It is not new information that many applicants exaggerate their abilities on their resumes and job applications. Things to look for are:
Skills Definition - Good Job Descriptions - Do you know what skills are needed to succeed and whether the employee possesses those skills? If they do not possess the necessary skills, how will the CIO help them to acquire them, and how long will that process to take? It is in everyone's best interest for the CIO to set appropriate expectations for the employee from the beginning. This is especially true if the position requires unique technical capabilities.
Tools Definition - Good IT Infrastructure - Even if an individual has the skills and experience to do the job, do they have the tools to deliver peak performance? For example, a highly skilled and experienced web designer cannot build a website without adequate computer hardware and software. The tools do not have to be the most up-to-date, but a system that crashes can be incredibly frustrating and unproductive, even to the best performer.
Experience - Just because an employee has the skills to do a job does not mean that they has the experience to apply those skills in his specific position. This is especially true for recent graduates, outside hires from different industries and internal hires from different departments. While the required skills may be similar from one job to the next, differing applications and terminology may require that the new hire take time to learn the nuances of his new position.
Read on Order Interview Hiring Guide Download Interview Guide Selected Pages