AFL-CIO Report Takes Critical Look at H-1B Visa Program
AFL-CIO Report Takes Critical Look at H-1B Visa Program - Back in the summer of 2008, I wrote a post in which I shared the views of several experts that there was no shortage of U.S. workers available to fill tech jobs. A newly issued IT salary report makes much the same point, noting "there now is a surplus of seasoned IT professionals available. " (This is not exactly apples to apples. The experts were discussing mostly entry-level jobs, while "seasoned" professionals would work in more senior positions. )
Some, but not all, of the experts mentioned in my 2008 post linked the issue of an "artificial" programmer shortage to the wide availability of H-1B visas. While technology companies insist they need more H-1Bs to hire folks with specialized skills not readily available in the United States, most of them hire workers with far more basic programming skills, they said. The H-1Bs allow them to hire foreign-born workers for salaries far less than those paid to U.S. counterparts with similar levels of ability and experience.
That's exactly what's happening, according to a new AFL-CIO report based on research by the National Research Council, the Government Accountability Office, the Department of Education, the Computing Research Association, the National Academy of Sciences, the National Academy of Engineering, the RAND Corp. and other sources. Among the issues covered in the report, says an eWEEK story, are stagnating wages for both U.S. IT pros and H-1B visa holders .
 It cites specific examples of wage abuse, finding a Florida Web developr paid $11.20 an hour, for example. This isn't new for those who follow the issue, of course. A late 2008 report by the U.S. Citizenship & Immigration Services covered some of the same ground, finding 13 percent of H-1B applications filed on behalf of employers are fraudulentand another 8 percent contain some kind of technical violations.
The AFL-CIO report also relates information from a recent Rutgers study that found graduates in STEM subjects (science, technology, engineering, math) don't pursue careers in those fields because of their perceptions that such careers are susceptible to offshoring.
Order Salary Survey Download Sample Provide Data
---

NOTE: The graphic below is updated with each new IT Salary Survey. The chart compares the data from the period of the survey to prior period.
---
Latest Median IT Salaries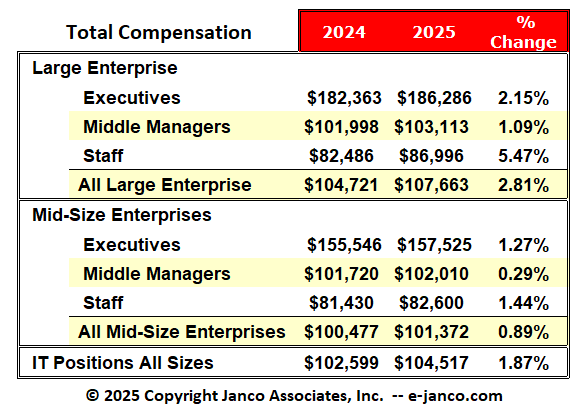 For the latest data go to the current IT Salary Survey
---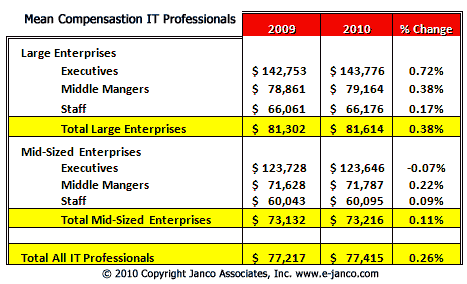 ---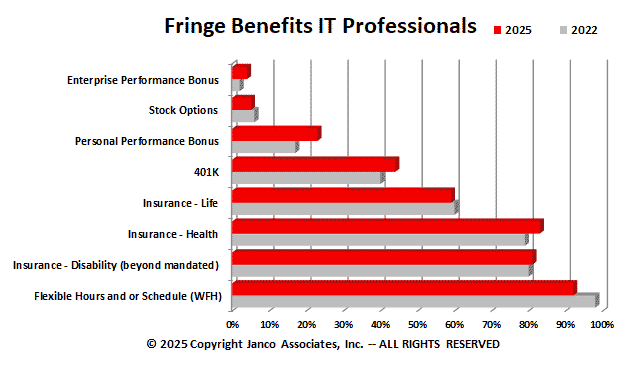 The latest fringe benefit analysis for IT professionals is updated during the creation of Janco's IT Salary Survey
---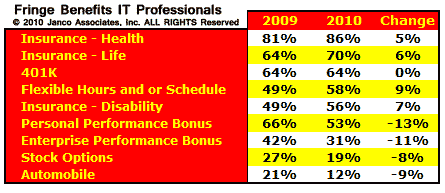 Order Salary Survey Download Sample Provide Data