Index
Back
Next
Updated Security Manual for the Internet and Information Technology Released
Janco has just released an update to the Security Policies and Procedures Template - it is comprehensive, detailed and customizable for your business.
Updated Security Manual for the Internet and Information Technology Released - M. Victor Janulaitis, CEO of Janco Associates, Inc. (Janco), announced the release of Version 7.2 of the Security Manual Template. .
This Security Manual for the Internet and Information Technology is over 230 pages in length. All versions of the Security Manual template include both the Business & IT Impact Questionnaire and the Threat & Vulnerability Assessment Tool (both were redesigned to address Sarbanes Oxley compliance). In addition, the Security Manual Template PREMIUM Edition contains 16 detail job descriptions that apply specifically to security and Sarbanes Oxley, ISO 27000 (ISO27001 and ISO27002), PCI-DSS, HIPAA, and CobiT.
Data Security and Protection are a priority and this template is a must have tool that every CIO and IT department must have. Over 3,000 enterprise worldwide have acquired this tool and it is viewed by many as the Industry Standard for Security Management and Compliance.
Comprehensive, Detailed and Customizable for Your Business
The IT Security Manual Template has been updated as of January 2010 and provides all the essential sections of a complete security manual and walks you through the creation of each step. Detailed language addressing more than a dozen security topics is included in a 230 plus page Microsoft Word document, which you can modify as much or as little as you need to fit your business requirements.
The template includes sections on critical topics like:
Risk analysis
Staff member roles
Physical security
Electronic Communication (email / Smartphones)
Blogs and Personal Web Sites
Facility design, construction and operations
Media and documentation
Data and software security
Network security
Internet and IT contingency planning
Insurance
Outsourced services
Waiver procedures
Employee Termination Procedures and Forms
Incident reporting procedures
Access control guidelines
PCI DSS Audit Program as a separate document
Security Compliance Checklists
Massachusetts 201 CMR 17 Compliance Checklist
The Security Manual Template can be acquired as a stand alone item (Standard) or in the Premium or Gold sets: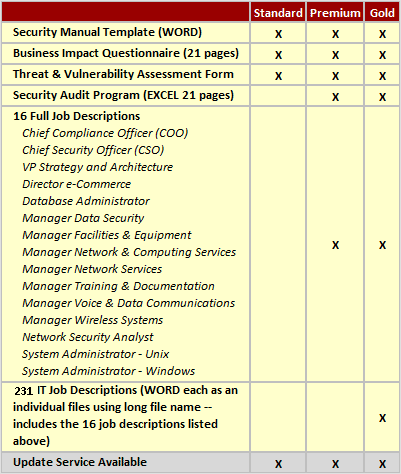 Read on Order Security Manual Template Download sample