Index
Back
Next
Top Network Security Weaknesses and Defects Identified
Top Network Security Weaknesses and Defects Identified - After reviewing 152 Security Audit programs Janco has identified the top weaknesses and defects in network security at large and mid-sized enterprises.

Top Network Security Weaknesses and Defects Identified - Janco has review the detail results of 138 security audit programs conducted between September 15, 2008 and January 15, 2010 and identified the top eight defects mentioned inaudit reports.

Victor Janulaitis the CEO of Janco said, "We did not find a single company that had zero security weaknesses or defects reported in their audit reports. The security weakness and defects Janco found were: 1 - Single level verification use on sensitive data (53%; 2 - public workstations connected into secure network (45%); 3 - Shared login used (25%); 4 - Client-side data validation only used for sensitive data(21%); 5 - Access point weak encryption (21%); 6 - Login not encrypted for sensitive data access (17%); 7 - Back-end encryption not utilized (12%); and 8 - Sever Management encryption not utilized (6%).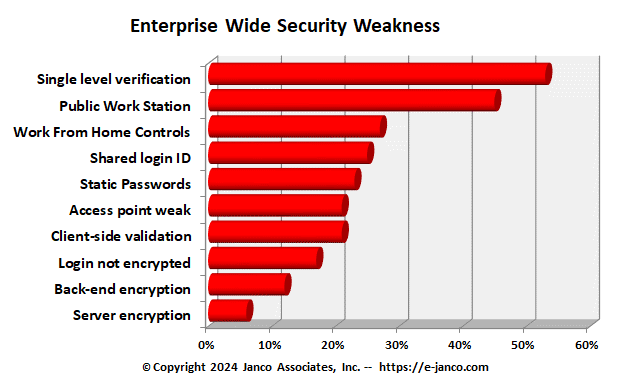 The data was captured by reviewing the detail findings of the audit reports. If there was a single occurrence of the defect it was counted. Janulaitis added, "What was striking was that there are still over one quarter of all enterprises where users share logins. Interestingly, those enterprise that utilize double levels of verifications the number of shared logins drops to a value that is not statistically significant. "

The core document used for the audit programs was the Janco Security Audit Program. Submission of the summary audit program was voluntary and may not be representative of all enterprises.

The Security Manual template includes sections on critical topics like:
Risk analysis
Staff member roles
Physical security
Electronic Communication (email / Smartphones)
Blogs and Personal Web Sites
Facility design, construction and operations
Media and documentation
Data and software security
Network security
Internet and IT contingency planning
Insurance
Outsourced services
Waiver procedures
Employee Termination Procedures and Forms
Incident reporting procedures
Access control guidelines
PCI DSS Audit Program as a separate document
Security Compliance Checklists
Massachusetts 201 CMR 17 Compliance Checklist
Order Security Manual Template Download Sample
The Security Manual Template can be acquired as a stand alone item (Standard) or in the Premium or Gold sets: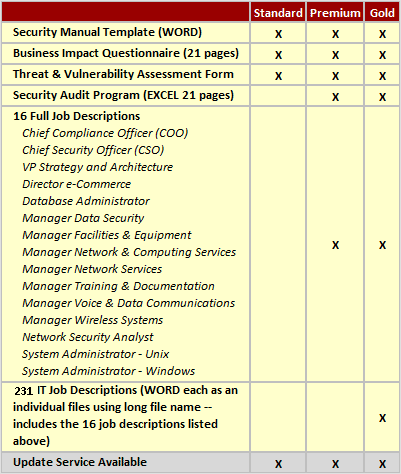 Order Security Manual Template Download Sample