Five-year CIO job cycle stays steady

Survey results show that the CIO median tenure is just more than 4 years, and there is no change in sight.
Five-year CIO job cycle stays fairly steady. CIOs stay in the same job an average of four to five years, recent surveys show. Whether they're staying longer than they did a couple years ago is up for debate, reports Paul Thibodeau at NetworkWorld.
In 2008, the average CIO tenure was four years and seven months, but now it is four years and one month, according to surveys by the management consulting firm Janco Associates. The reported decline is the result of a number of factors, including the recession, corporate itchiness for new IT leadership, and the retirement of baby boomers, the firm found.
If you ask the Society for Information Management, however, the average tenure last year was five years and one month, up from four years and six months the year before. The role that CIOs are playing as business managers is increasing the position's longevity, the researchers behind this study say.
Whether the tenure is rising or falling, it is important for CIOs not to let the conventional wisdom of a five-year job cycle become a self-fulling prophecy, advises Frank Petersmark. Petersmark kept his job as CIO of Amerisure Mutual Insurance for 13 years despite being warned of the five-year cycle.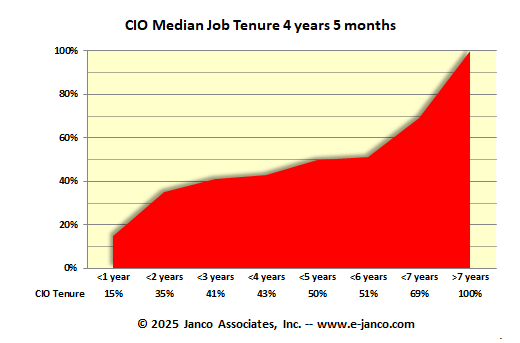 Order Salary Survey Download Sample Provide Data