Blockchain activity is on the rise – Median Salaries are over $100K according to Janco
Blockchain Job Descriptions Bundle Released - available as an eBook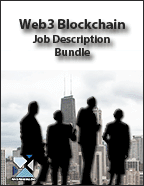 Park City – UT –  Park City, UT — https://www.e-janco.com – Blockchain demand is high and median salaries for IT Pros who are in that space is well over $100K. One of the demands faced by those recruiting is the lack of concise job descriptions which can be used in the recruiting process and compensation planning. In response, Janco has just released its Blockchain Job Descriptions Bundle. 
The CEO of Janco, Mr. M. Victor Janulaitis said, "In a review of compensation for 12 comparable Blockchain related positions at a number of our clients, we found that 10 of the positions surveyed had median salaries over $100K.  The two positions that did not reach that threshold, were ones that have been around a while and are just now seeing the impact of blockchain." He added, "A Manager of Blockchain Architecture commands a median salary of $142,000, a Project Manager Blockchain is at $120,000, a Blockchain Analyst has a median salary of $123,500, and a Blockchain Developer commands $127,000. All at the upper end of salaries for IT Professionals"
"Also, all of these positions are in short supply.  This in turn, is putting upward pressure on salaries and increasing the requirement for outside consults who have the skills associated with blockchain. We see this trend continuing."
The Blockchain Job Descriptions Bundle contains 12 compressive job descriptions.  They are Vice President Strategy and Architecture, Chief Security Officer, Manager Blockchain Architecture, Project Manager Blockchain, Blockchain Analyst, Blockchain Developer, Project Manager - Enterprise Resource Planning (ERP), Project Manager - Enterprise Architect, Data Scientist, Database Administrator, Database Manager, and Director Electronic Commerce.  Each job description comes as a separate MS
WORD file and are included in the summary pdf and eReader document.  The offering is delivered electronically and ranges in price from $459 to $999 depending on the length of update subscription service.
Janulaitis said, "Positions that tangentially are impacted by blockchain are also in high demand. It is for that reason that we included them in this bundle and analysis of compensation.  As this technology progresses we believe that ERP and Enterprise Architecture disciplines will merge with blockchain. And, we think that is not too far into the future."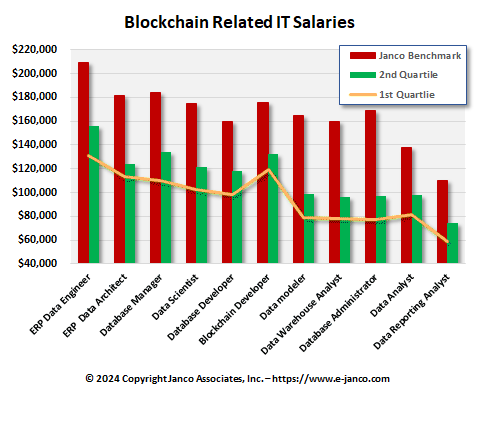 Updated with Janco's latest compensation data
More data will be available on compensation levels for Blockchain once Janco completes it Mid-Year IT Salary survey.
Order Web3 Blockchain Job Description Bundle
All Janco's products are delivered electronically in ready to implement formats that are easily customizable by the user. Janulaitis said, "We have clients in over 100 countries that rely on our leading-edge products. We continue to be on the forefront of IT governance and infrastructure management as that is the strength of the firm. Over 2,400 companies have already selected one of Janco's templates to be the foundation for managing this complex operational discipline."
More information on Janco Offerings can be found on the Janco's website at https://www.e-janco.com/products.html and a full table of contents of each of these products can be downloaded for the website.
Janco is an international consulting firm that follows issues that concern CIOs and CFOs. The firm publishes a series of IT and business Infrastructure HandiGuides® and Templates including IT Infrastructure Policies and Procedures, Disaster Recovery/Business Continuity Template, Security Template, IT Job Descriptions, and its semi-annual IT Salary Survey.
Read On Purchase Job Description Bundle Sample