CIO's Governance and Infrastructure Strategy for World Class Organizations
Ransomware protection provided by governance processes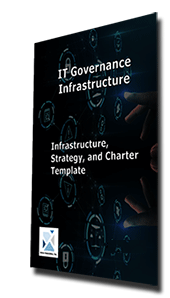 Janco's Governance and Infrastructure Strategy and Charter is a map to achieve world class status for an organizations IT function. The framework has been used by organizations around the globe to to structure the technology function with an enterprise's operations seamlessly.
To support the process the IT Governance offering includes these ten (10) full job descriptions:

Chief Information Officer (small enterprise)
In addition, it is provided in three formats: MS WORD, pdf, and ePub (eReader).
Implement Proven Techniques for Success
With the current volatility and rapidly changing technological solutions and increasing security and mandated compliance requirements now is the time to be in step with the way that industry leaders operate.
Order IT Governance Infrastructure Strategy Download Selected Pages Version History
IT Infrastructure management supports operational functions such as system management, change control, release management, network management, applications management, job management, and database management. Across these functions, IT Infrastructure management provides a number of benefits that can result in cost savings, improved service levels, and operational efficiencies.
The template covers everything from the basics to the organizational inter-relationships. Included in the template are:
Strategy and Charter Statement of Authority - Includes not only CIOs but also an IT Management Council (Steering Committee) and functional group leaders.
IT Management Structure - Organizational approaches, roles and responsibilities for both centralized and de-centralitized organizations.
Compliance - Objectives and responsibilities for IT, users, and auditors
Personnel Practices - Everything in the employment life-cycle
ERP and Omni Commerce - Strategy and best practices defined
Controls - Definition of types and risk analysis
Application Development Standards - Includes quality assurance requirements
Backup and Recovery - Strategy and process alternatives
Disaster Recovery and Business Continuity - Includes critical function analysis
Security - Road map to how and what including appropriate management actions
Access Control - Including separation of duties and definition of least privilege
Server and Data Center Facility Requirements - Best practices to protect the physical assets
Technical Guides including: HIPAA Audit Program; ISO Security Audit Checklist; CIO job description; Security Management Compliance Checklist; and much more.
Governance Infrastructure Management Tool Kit Versions
Janco has created a framework which is easily applied and cover everything from day-to-day IT activities to change control and version management. In addition, you have the option to purchase this offering with 24 months of update service.
Order IT Infrastructure Architecture Download Sample