Only 1 in 4 Disaster Recovery and Business Continuity Plans get an A
Version 8.1 of the Disaster Recovery Business Continuity Template just released. It now includes 17 electronic forms, Updated DR/BC Audit program, and a new Business Impact Analysis tool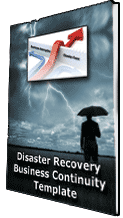 Only 1 in 4 Disaster Recovery and Business Continuity Plans get an A - Janco Associates has just released version 8.1 of its industry standard Disaster Recovery Business Continuity Template. 3,000 companies in over 150 countries have selected the Janco Disaster Recovery Business Continuity Template as their product of choice. Included with this version are 9 specific electronic forms to help create and keep the plan up to date and 8 electronic forms that can be with the plan which will aid in compliance with a company's safety program during a recovery process.
Many of the best features of the template are newly created electronic forms and best practices that are clearly defined within the product. Also included is a Business Impact Analysis updated for mobile devices and BYOD.

The Disaster Recovery and Business Continuity template is delivered electronically and comes as an easily modifiable Microsoft WORD document. The template is over 250 pages long and includes everything needed to customize the Disaster Recovery Plan to fit an organization's specific requirements. The document includes proven written text and examples. Included are: Business Impact Analysis - including a sample impact matrix ; Organization Responsibilities pre and post disaster - DRP checklist; Backup Strategy for Data Centers, Departmental File Servers, Wireless Network servers, Data at Outsourced Sites, Desktops (In office and "at home"), Laptops, PDA's and BYOD; Recovery Strategy including approach, escalation plan process and decision points; Disaster Recovery Procedures in a check list format; Incident/Media Communication Plan; Plan Administration Process; Technical Appendix including definition of contact points; Job Description for Disaster Recovery Manager (3 pages long) - entire disaster recovery team job descriptions are also available in the premium version of the offering; and, a Work Plan to customize and implement the template.

More information on the template can be found on the Janco's web site at
https://www.e-janco.com/drp.htm.
Order DRP BCP Template DRP BCP Sample
Disaster recovery plans need to be reviewed to validate if all risks are covered
In the US traditional business continuity planning typically did not include all possible disruptions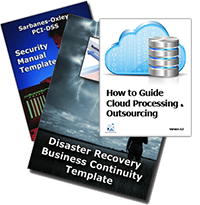 Today's enterprise looks different than those of the 1990's. Location - headquarters, branch office, home office, or no office - simply doesn't matter anymore. Data lives in a data center and it can be used by anyone everywhere. Decision-making now is more decentralized, with mobile workers and branch office employees making critical decisions on a regular basis. Distributed employees are no longer just 'sales reps' fulfilling orders, but are highly-paid, highly leveraged knowledge workers. These individuals do not only work with local teams or businesses, but also engage in many-phased collaborations with specialists distributed across the company. The cross functional nature of the distributed workforce significantly changes how a business needs to resource and support both the branch office and the mobile worker.

After a disruption there can be a second event that cause as much damage as the first so care should be taken and the following steps should be taken:
Be aware of your surrounding and find your safest escape route.
Personal safety of yourself and those around you should be the first concern.
Since one event can be followed by another, stay alert. There may be more danger yet to come.
For protection, consider crawling under a table or desk and remain there for at least 60 seconds.
Stay away from windows, mirrors, overhead fixtures, filing cabinets, bookcases, and electrical equipment.
If an evacuation is ordered, go to a designated place. Make sure all staff and others in your facility are accounted for. Do not forget handicapped people who may need your help in exiting. Do not move seriously injured persons unless they are in obvious, immediate danger (building collapse, fire, etc. ). Avoid known problem areas (where there are gas lines, fire hazards, etc. ). Once out, keep as far away from the building as possible.
Open doors carefully. ; Watch for falling objects.
Do not use elevators.
Do not use matches or lighters.
Avoid using telephones and hand radios.
Over 3,000 organizations from over 100 countries have used these templates to create the necessary Cloud, Disaster Recovery and Security infrastructure. They have found the process one that is very manageable for companies of all sizes.
Read on Cloud Disaster Recovery and Security Order Cloud DR/BC Security Bundle