The Web Browser Turns 15: A Look Back
Web Browser Milestones
The Web Browser Turns 15: A Look Back - Oct. 13, 2009 - a key milestone in the history of the Internet. That's when the first commercial Web browser - eventually called Netscape Navigator - was released as beta code. While researchers including World Wide Web inventor Tim Berners-Lee and a team at the National Center for Supercomputing Applications created Unix browsers between 1991 and 1994, Netscape Navigator made this small piece of desktop software a household name. By allowing average users to view text and images posted on Web sites, Netscape Navigator helped launch the Internet era along with multiple browser wars, government-led lawsuits and many software innovations.
October 13, 1994 - First commercial browser released

Mosaic Communications Corp. - later renamed Netscape Communications Corp. - releases the beta version of its Web browser, called Mosaic Netscape 0.9. It was based on the Mosaic code developed by the NCSA, and Mosaic co-author Marc Andreessen was a co-founder of Netscape. The browser was later renamed Netscape Navigator. Version 1.0 was released on Dec. 15. Navigator was the first commercial Web browser to be wildly successful, rapidly achieving 90% market share before Microsoft entered the fray and took over the market. By 2000, Netscape's market share would fall under 1%, Janco Associates says.
April 30, 1995 - Web traffic dominates Internet
Six months after Netscape released its browser, Web traffic became the leading type of traffic on the Internet. For example, Web traffic accounted for 21% of the traffic on the National Science Foundation's NSFNET backbone, while the No. 2 usage, File Transfer Protocol, traffic accounted for 14% of the traffic, according to livinginternet.com . This was a sign of the rapid adoption of Navigator, which saw 50 million copies distributed in its first two years, according to BusinessWeek.
August 24, 1995 - Microsoft muscles into the browser market
Microsoft released Internet Explorer 1.0 in its Windows 95 Plus! Pack. Internet Explorer was built upon software licensed from Spyglass, an offshoot of NCSA that owned the technology behind the Mosaic browser. Microsoft bundled Internet Explorer into its operating system and provided it free of charge. Microsoft's approach was smart; two years later Microsoft had replaced Netscape as the leading browser provider, with 49% of the market compared with 46% for Netscape, according to Janco Associates.

Browser Twelve Year Historical Trend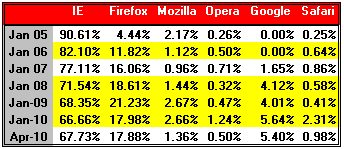 January 1, 1997 - Opera introduced, targets mobile devices
Based in Norway, Internet Opera Software released its first Web browser for Windows, dubbed Opera 2.1. Opera has been a minor player in the Web browser market since then; it currently has 1.1% of the market, according to Janco Associates. Version 10 was released on Sept. 1, 2009. Opera Software claims 40 million users on Windows, Mac and Linux machines. Its mobile version - Opera Mini - claims 30 million users, including many BlackBerry users.
February 23, 1998 - Netscape creates open source Mozilla Project
Netscape created the Mozilla Organization as an open source developr that would provide a free version of its browser. By February 1998, Netscape - which had 28% browser market share - had been vanquished by Microsoft - which had 69% market share - in the first browser war. In July 2003, the Mozilla Organization would morph into the Mozilla Foundation, a nonprofit. In 2005, the for-profit Mozilla Corp. - was created and would eventually deliver the popular Firefox browser.
May 18, 1998 - Feds sure Microsoft over bundled browser
The U.S. Justice Department filed an antitrust case against Microsoft alleging that Microsoft abused monopoly power by bundling its Internet Explorer Web browser into its Windows operating system. Working for DOJ, attorney David Boies (shown here) won the trial, and the verdict was upheld on appeal. DOJ reached a settlement with Microsoft in 2001, requiring Microsoft to share its APIs with other companies. Microsoft is required to meet this obligation until November 2009.
November 24, 1998 - AOL buys Netscape
AOL announced plans to buy Netscape for $4.2 billion. The deal was a stock-for-stock transaction that ended up being worth more than $10 billion when it closed in March 1999. The merger required approval by the U.S. Department of Justice on antitrust grounds. AOL was not successful at helping Netscape regain market share for Navigator. In December 2007, AOL announced that it would no longer support Netscape Web browsers.
January 7, 2003 - Apple enters the browser fray with Safari
Apple released a beta version of Safari, which would become its standard Web browser built into the Mac operating system later that year. In June 2007, Apple released a version of Safari for Windows XP and Vista systems. Safari also is the browser used in Apple's iPhone. In June 2009, Apple released Safari 4 featuring speedier performance, enhanced integration with Windows and an at-a-glance view of a user's favorite Web sites. More than 11 million copies of Safari 4 were downloaded in the first three days of availability, Apple said. A niche player, Safari has less than 1% market share, Janco Associates says.

February 9, 2004 - Firefox released, gains mindshare with techies
The Mozilla Foundation released a beta version of Firefox - dubbed Firebox 0.8 - that would soon catch on as a speedy alternative to Internet Explorer. By 2004, Microsoft had more than 87% of the browser market, according to Janco Associates. But within six months of this release, Firefox was the preferred browser among techies, winning awards at Linuxworld Expo and being dubbed hot by Wired Magazine. Firefox grew in popularity, and today this free, open source browser has 19.2% market share.
December 13, 2007 - Opera files antitrust complaints against Microsoft
Opera filed a complaint with the European Commission (headed by Neelie Kroes, shown here), claiming that Microsoft violates antitrust laws by integrating Internet Explorer into the Windows operating system and by failing to follow open Web standards. Microsoft has offered to provide its customers with a menu of available browsers to download rather than installing Internet Explorer by default in Windows 7. The EC says it hopes to settle the case before year's end.
January 14, 2008 - Web browsers top Internet vulnerability list
For the first time, Web browser attacks top the list of the Top 10 Cyber Security Menaces for 2008 compiled by SANS Institute. The infosec research group says malicious code placed on popular, trusted Web sites is exploiting components of Web browsers, such as Flash and QuickTime. These attacks are gaining in sophistication and becoming more common. In December 2008, Microsoft would announce a " huge increase " in Internet Explorer attacks, one of several times Microsoft must scramble to patch a browser vulnerability.
September 2, 2008 - Google Chrome introduces
Google announced the beta release of its open source Chrome browser for Microsoft Windows systems. Google offered a developr's version that supports Linux and Apple Macintosh systems in June 2009. Now, Google is on Version 3 of Chrome, which aims at being speedier than competitors with a cleaner layout and design. So far, Google has attracted more press than users with Chrome. Currently, Chrome has 3.7% browser market share, according to Janco Associates.
March 19, 2009 - Microsoft responds to rivals, enhances IE
Responding to innovations in Firefox, Safari, Opera and Chrome, Microsoft released Version 8 of Internet Explorer. Microsoft said it was the company's fastest, most stable and secure Web browser. One innovation is Web slices, which notify users when a favorite site is updated. Another improvement makes it easier for users to refer to multiple tabs. IE also offers InPrivate browsing, which has the nickname "porn mode. " Microsoft was prompted to improve its Web browser by shrinking market share, which is down to 68%, according to Janco Associates.
June 30, 2009 - Mozilla ships faster Firefox
Mozilla released the latest version of Firefox, which offers several performance enhancements, particularly for Web developrs. Though not the fastest browser, Firefox 3.5 is more competitive against Chrome and Safari in this area. Firefox 3.5 features location-aware browsing so it's easier for users to find nearby retailers or restaurants. This version also supports private browsing, which was already available in Chrome, Safari and Internet Explorer. Mozilla says more than 300 million people around the world use Firefox.
August 13, 2009 - Netscape founder discloses browser start-up
Marc Andreessen, leader of the NCSA Mosaic project and founder of Netscape, admits to the New York Times that he is backing a browser start-up called RockMelt . The article caused much speculation in the tech press about what RockMelt will be, with many believing that the new venture will create a browser customized for social networking sites such as Facebook.
Order Browser Market Share Study Download Selected Pages