IT hiring rebounds; reactions are mixed
By Patrick Thibodeau
Labor data shows says that Feb. was a strong month for IT hiring, though it's still not at early prior year levels

In the last three (3) month the IT Job market grown by 21,500. This chart is not the originally published one, rather it is updated with the current data based on the analysis by Janco Associates, Inc. For the latest IT Employment Data click here.
---
IT hiring rebounds; reactions are mixed - February was a good month for IT hiring after months of sluggish demand. Reports from three research firms each reported an increase in hiring in the sector.
TechServe Alliance, an industry group, estimated that 17,600 IT jobs were added last month. IT labor research firms Foote Partners put the figure at 10,200, and Janco Associates at 5,000.
While the analysts all agree that February was a good month for IT hiring, they differ in their level of enthusiasm about it.
On Friday, the U.S. Dept. of Labor reported that the economy in February added 175,000 jobs overall.
IT labor analysts all use the Labor Dept. data to create their reports, but their monthly job estimates vary by the IT occupational categories that they include or exclude in their reports.
One month does not make a trend, and since August IT hiring - while increasing overall - was well off 2013's strong start .
David Foote, chief analyst at Foote Partners, points out that that the total IT workers hired in February was higher than the 8,650 monthly IT hiring average over the last 12 months. But it's still 4,000 less than the monthly average for the first seven months of 2013.
In that year ago period the IT labor force was adding 14,200 jobs a month. "Therein lies the problem: lost momentum," said Foote in his report.
Victor Janulaitis, CEO of Janco, said IT hiring last month "is not as bad as it has been," and that new job creation is in selected technical areas, such as BYOD security expertise.
In interviews with nearly 100 CIOs, Janulaitis said hiring caution is declining, and and that IT staffs may be expended in the second or third quarters of this year.
Mark Roberts, CEO of TechServe Alliance, said "we are seeing steady improvement in demand and IT job growth. "
Roberts characterized the slowdown in the fall as more of "a pause" than a slump in hiring. "Overall, I think there is some renewed confidence in the future," he said referring to last month's data.
Historic IT Job Market Size - Over 4.19 Million Employed as IT Pros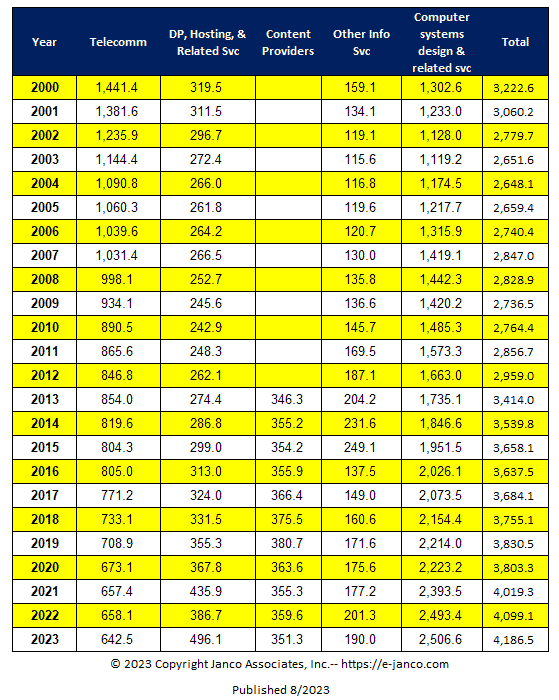 This is not the original data that was published.
It has been updated with data complied by Janco Associates with data as of September 2023.