Index
Back
Next
IT Governance Infrastructure, Strategy, and Charter Template Updated
Template meets all mandated security and reporting requirements
Park City UT, - Today Janco released Version 2.1 of its IT Governance Infrastructure, Strategy, and Charter Template. The template has been updated to meet CobiT requirements and now includes a Security Management Compliance Checklist, Massachusetts 201 Compliance checklist, a HIPAA Audit Program Guide, and a 15 page ISO 17799 Audit Checklist. The CEO of Janco Associates, Inc. , Mr. M.V. Janulaitis said, "With the explosion of technology into every facet of the day-to-day business environment there is a need to define an effective infrastructure to support operating environment; have a strategy for the deployment and technology; and clearly define responsibilities and accountabilities for the use and application of technology. " He added, "The Information Technology Infrastructure, Strategy, and Charter Template fills that need. "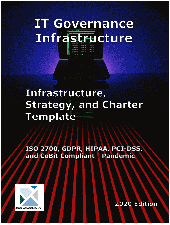 Janco has found that defining the optimal IT infrastructure is a critical task that can no longer wait. This template helps CIOs and enterprise executives: 1) Understand and explain what infrastructure is, enabling enterprises, their constituents, and the executive team to manage the organization's technology environment more effectively; 2) Analyze the current state of the infrastructure so the enterprise knows where it works well and where to focus improvement efforts. 3) Justify infrastructure spending, using the template's comprehensive definitions and ready to use examples to link IT infrastructure and the enterprise's bottom line; and 4) Prioritize resources with a prescriptive toolset that lets enterprises focus their efforts.
The template is over 125 pages in length and the topics covered include: IT infrastructure, strategy, and charter summary; strategy and charter statement of authority; it management structure; compliance; personnel practices; controls; application development standards; service requests; local area network; back-up and recovery; disaster recovery plan; security; access control - physical site; access control - software and data; and facility requirements.
This template works in concert with Janco's other popular tools: the Disaster Recovery Plan / Business Continuity Template; the Security Manual Template; the IT Service Management Template; and the Internet and IT Position Description HandiGuide.
Read On Order IT Governance Infrastructure Strategy Download Selected Pages