Index
Back
Next
DRP - BCP Template Updated
As the damage from the Icelandic volcano is being calculated Janco has released version 5.6 of its Disaster Recovery - Business Continuity Template with its latest version of the Risk Assessment Questionnaire.
Park City UT - Janco Associates, Inc. (Janco) announced the release of Version 5.6 of its Disaster Recovery and Business Continuity Template. The template has been updated with the latest Risk Assessment Business and IT Impact Questionnaire. Victor Janulaitis, the CEO of Janco said, "We have contacted all of our clients in Europe that were hit by the volcanic dust cloud and most were not impacted and those that were, are all back in operation. " In addition, "It is a testament to the completeness of the template and the processes that it instills those enterprises that use it are successful in their recovery operations.
The CEO added, "We have found that when recovery plans fail over 60% of the time it is because of errors in the recovery document itself. Other common contributing factors for failures are:  insufficient backup power (22%); communications not operational - both voice and data (18%); personnel not trained in use of the plan (17%); and plan not activated in a timely manner (12%). "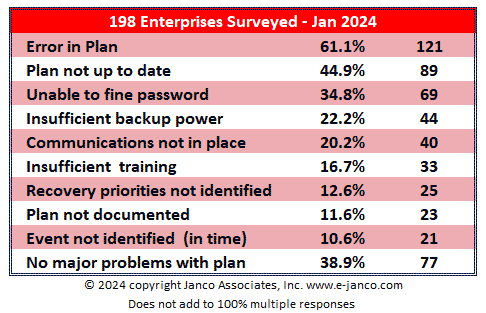 Version 5.6 has detail Disaster Recovery and Business Continuity activation procedures for the plan as well as specific forms for web sites that are informational and e-commerce based. Included is a detail audit checklist as well as specific rules for record management and backup retention.
In the process of creating DRPs and BCPs for organizations around the globe, Janco has found every department, in every corporation or organization needs a universal, yet comprehensive DRP - BCP to safeguard the use of their computers, all related equipment, and information which support enterprise wide operations in the event of a disaster. The WORD template is over 215 pages and can be used in the creation of a unique Disaster Recovery Plan (DRP) and Business Continuity plan (BCP) for any entity. Over 3,000 enterprises worldwide selected this template and made it the industry standard.

Janco's Disaster Recovery - Business Continuity Template provides clear examples of how to create a DRP/BCP for any size organizations. The process created is concise and easily understood by all employees. "The template has checklists and examples of what is needed to get systems and networks back in working order quickly. Janco's work with clients who have suffered fires, earthquakes, floods, tornadoes, hurricanes, volcanic eruptions, and other disasters has been used in creation of this inexpensive template", asserts Janulaitis. "
The Disaster Recovery - Business Continuity Template is available in electronic download format and described in full on Janco's web site https://e-janco.com/disasterplanning.html.