Index
Back
Next
Windows 7 has more users than Vista
Microsoft has good news on the OS front, but their browser market share has fallen to the level that it was in 1998
Park city UT - Janco has just released its Browser and Operating System Market Share White Paper. A major finding is that Microsoft's new Operating System Windows 7 has 14.8% of the OS market less than 7 months after its release. The CEO of Janco, Victor Janulaitis said, "There are now more users of Windows 7 than Vista. That is a major factor in their improved record earnings. The last OS that was accepted as quickly in the market was XP. Vista's market share has peaked and is in the process of being decommissioned in most enterprises. "  Janulaitis added, "The last six months have been a mixed bag for Microsoft. While they have good news on the OS front, their browser market share has fallen to the level that it was in 1998. "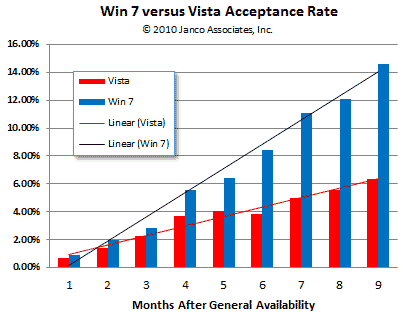 The study finds that in the last 12 months Microsoft's browser market share lost 3.7%  of the browser market; Firefox's market share has remained unchanged for the same period; and Google's Desktop and Chrome browsers are the winners with just under 5.5% market share.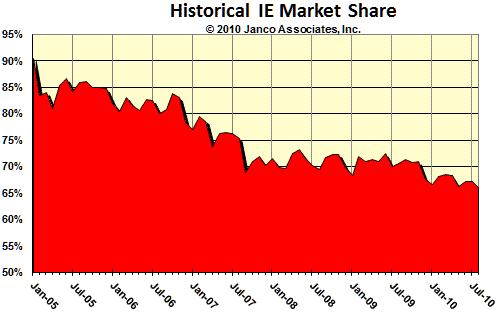 The top five browser market share rankings are: Microsoft's IE - 67.73%; Firefox - 17.88%; Google (Desktop & Chrome) - 5.40%; Mozilla - 1.36%; and Safari- .98%. Janulaitis said: "The positive glow on Google's Chrome was dulled by the identification of some defects including the way it handles XML pages. But the real story is the continued erosion of Microsoft's IE market share.
The full study is available at https://e-janco.com/browser.htm as an electronic document including the data in Excel format.
Order Browser Market Share Study Download Selected Pages
(added in 2018)
Now that the browser wars have stabilized with Microsoft's offering going in a distant third behind Goggle's Chrome and Mozilla's Firefox. It is not clear in anyone's mind that IE and/ or Edge will be products that survive the next wave of technological innovation. The real question is where will Microsoft's focus be and wither the U.S. Department of Justice will do anything about the concentration of Browser market share in two vendors.
With Goggle have such a large market share, we would not like to bent the odds by saying the U.S. Department of Justice will do nothing. Rather, over the long term this market share concentration will bring action to address this concentration.