Index
Back
Next
Microsoft has good news on the OS front - Windows 7 Beats Vista
Microsoft has good news on the OS front, but their browser market share has fallen to the level that it was in 1998
Microsoft has good news on the OS front - Windows 7 Beats Vista - Less than seven months after its release, Microsoft's (MSFT) Windows 7 operating system now has more users than its much maligned predecessor, Windows Vista.
Consulting firm Janco Associates this morning reported that Windows 7 has 14.6% of the personal computer operating system market. Vista's share has fallen to 12.6%.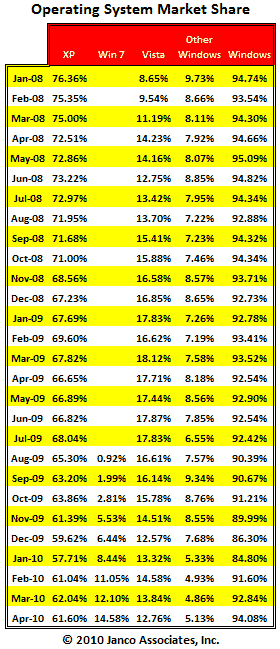 Microsoft controls almost 94% of the PC operating systems market with versions of Windows, including Windows XP, which still has 61.6% of the market 8.5 years after its release.
Apple's (AAPL) Macintosh operating system has 4.2% of the market, according to Janco.
While Microsoft has a hit with Windows 7, its Internet Explorer Web browser continues to lose ground. Internet Explorer is still No. 1 with 67.3% of the Web browser market in April, but that's down from 71.4% a year earlier, Janco says.
Rivals gaining market share include open source Firefox, with 17% share, and Google's (GOOG) Chrome browser, with 5.4% share.